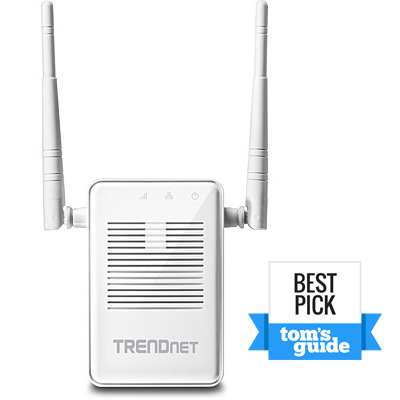 AC1200 WiFi Range Extender
TEW-822DRE (Version: v2.0R)
Extends concurrent WiFi AC and N networks
AC1200: 867 Mbps WiFi AC + 300 Mbps WiFi N bands*
Extreme speeds for buffer-free 4K / 3D / HD video streaming
Plugs directly into an electrical outlet
External antennas and high power amplifiers increase WiFi coverage
Extender and Access Point modes
Gigabit wired port
TRENDnet's AC1200 WiFi Range Extender, model TEW-822DRE, offers extreme wireless coverage to minimize existing wireless network dead spots. Setup takes minutes with no drivers to install and it stays out of the way by plugging directly into an outlet. Connect to either an existing WiFi N or WiFi AC router and extend concurrent WiFi N and AC networks into an area with little to no wireless signal.
Features
Easy Setup
Quick intuitive setup connects to either a WiFi AC or WiFi N network and adopts existing WiFi settings
AC1200 Dual Band
Broadcasts concurrent high speed 867 Mbps WiFi AC + 300 Mbps WiFi N networks
Extreme Coverage
Adjustable external antennas, high power amplifiers, and multiple antenna technology produces extreme wireless coverage
Gigabit Port
Gigabit port extends a high performance connection to a wired device
No Clutter
The extender plugs directly into an outlet
Operating Modes
External switch toggles between Extender (connects to a WiFi network) and Access Point (connects to a wired network) modes
Encrypted Wireless
Supports the latest encryption standards
Compatibility
Compatible with legacy wireless devices
Targeted Beamforming
Increased real-time performance by directing stronger wireless signals to a device's specific location
Specifications
Standards

IEEE 802.3
IEEE 802.3u
IEEE 802.3ab
IEEE 802.3az
IEEE 802.11a
IEEE 802.11ac (up to 867 Mbps)
IEEE 802.11b
IEEE 802.11g
IEEE 802.11n (up to 300 Mbps)

Device Interfaces

Gigabit Ethernet port
WPS Button
AP / Extender / Off switch
LED indicators
Power plug
A: North America Type B (NEMA 5–15)
EU: Euro Type C (CEE 7/16)
UK: United Kingdom Type G (BS 1363)

Operation Modes

Range Extender (Repeater)
Access Point

Special Features

High power amplifier
MIMO antenna technology
Compact form factor
IPv6 (Link local, Static, SLAAC / DHCPv6)
Beamforming
Multiple SSID
DFS channels

SSID
Access Control

Wireless encryption: WEP, WPA / WPA2-PSK, WPA / WPA2-RADIUS
MAC filter
Wireless user number limitation

Frequency

FCC: 2.412 - 2.462 GHz, 5.180 - 5.240 GHz, 5.745 - 5.825 GHz
ETSI: 2.412 - 2.472 GHz, 5.180 - 5.580 GHz, 5.660 - 5.700 GHz

Wireless Channels

2.4 GHz: FCC: 1-11; ETSI: 1-13
5 GHz: FCC: 36, 40, 44, 149, 153, 157, 161, 165; ETSI: 36, 40, 44, 48, (52, 56, 60, 64, 100, 104, 108, 112, 116, 132, 136, 140)**

Modulation

BPSK, QPSK, 16-QAM, 64-QAM, 256-QAM with OFDM

Antenna Gain

Dipole dual band antennae x 2
5G: 3 dBi
2.4G: 2 dBi

Wireless Output Power (EIRP) / Receiving Sensitivity

802.11a: FCC: 22 dBm (typical), CE: 20 dBm (typical) / -65 dBm (typical) @ 54 Mbps
802.11b: FCC: 20 dBm (typical), CE: 20 dBm (typical) / -83 dBm (typical) @ 11 Mbps
802.11g: FCC: 27 dBm (typical), CE: 20 dBm (typical) / -65 dBm (typical) @ 54 Mbps
802.11n: FCC: 27 dBm (typical), CE: 20 dBm (typical) / -61 dBm (typical) @ 300 Mbps
802.11ac: FCC: 26 dBm (typical), CE: 20 dBm (typical) / -51 dBm (typical) @ 867 Mbps

Power

Input: 100 - 240 V AC, 50/60 Hz
Consumption: 8.3 Watts (Max.)

Operating Temperature
Operating Humidity
Certifications
Dimensions

150 x 130 x 60 mm (5.9 x 5.1 x 2.4 in.)

Weight
Warranty
Package Contents
TEW-822DRE
Multi-Language Quick Installation Guide
CD-ROM (User's Guide)
Ordering Information
20675 Manhattan Place
Torrance, CA 90501
USA

Tel: 1-310-961-5500
Fax: 1-310-961-5511
Web: www.trendnet.com
Email: sales@trendnet.com
To Order Please Call

1-888-326-6061
Information provided in this document pertain to TRENDnet products and is subject to change at any time, without notice. Copyright © 2018 TRENDnet. All rights reserved.