MoCA vs HPNA vs Powerline
Creating a Wired Connection without Running Cables
May 2021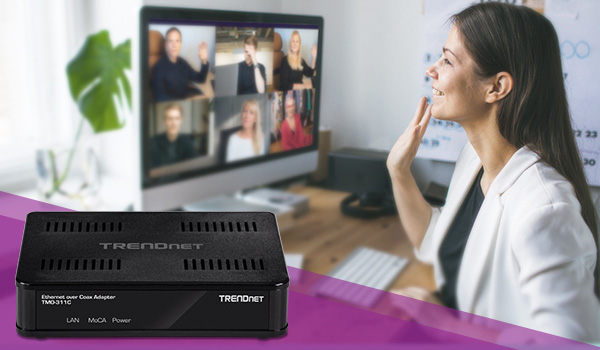 Depending on the size and design of your home, your wireless router may not provide enough coverage for your entire home (or workplace). When it comes to extending your wireless coverage, there are many options to consider, such as access points and repeaters. However, extending your wireless coverage does have a caveat; whenever you extend your wireless signal (with a Wi-Fi repeater or extender), the throughput is cut to about half the speed.
The reason most users choose to extend a wireless signal is because it's relatively easy. You don't need to drill holes into your walls or run any cabling. However, there are very simple solutions that allow you to get the benefits of a reliable, wired Ethernet connection that doesn't require any special tools or difficult installations. Instead, these solutions utilize your building's existing infrastructure.
In this write-up, we will go over three different types of technologies that allow you to this: MoCA, HPNA, and Powerline. Two of these solutions use your home's existing coaxial cabling, while the other uses existing electrical wiring. All three technologies have their pros and cons. Note that these technologies do not work together; you cannot use a MoCA adapter to connect to an HPNA adapter, even though they both use coax.
MoCA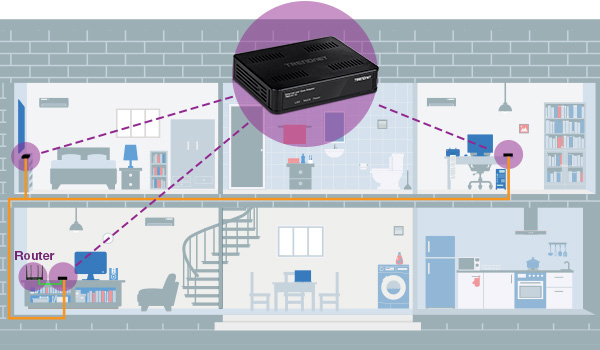 MoCA adapters allow you to create a network connection using your home's existing coaxial cabling. Most newer homes are prewired with coax, making MoCA an excellent choice to gain a reliable, hardwired network without drilling holes or running cables. MoCA adapters provide high-quality, reliable, low-lag, high-speed network connections. With MoCA 2.5, users can experience 2.5Gbps with less than 5ms latency. MoCA 3.0 is currently in development, and plans to achieve 10G speeds.
Of the three options discussed here, MoCA has the shortest reach at just 300 ft., but to make up for it, it allows you to use 16 adapters simultaneously on one network (more than the other two options that will be discussed). MoCA also supports the highest actual throughput of these three options. Additionally, MoCA lowers the cost of network ownership; however, all three options are very cost-effective network solutions to consider.
MoCA isn't limited to a single-family home or singular office. With the right equipment, MoCA adapters can be used with apartment buildings, condominiums, and other multiple-family properties, as well as other multiple dwelling units, such as hotels, hospitals, and schools.
MoCA technology is supported by the Multimedia over Coax Alliance, an international standards consortium focused on developing home networking technology that utilizes existing coax cabling, capable of managing multiple streams of multimedia content.
HPNA
Like MoCA, HPNA technology allows users to use their existing, in-building coaxial cabling as a conduit to share an Ethernet connection throughout the home (or office). Unlike MoCA, some HPNA adapters also have the ability to use copper telephone phone wiring to create a connection. It can be used over telephone wires while still using existing voice or fax services without interruptions because it uses different frequencies than those used for voice or TV.
HPNA technology is slower the MoCA with maximum speed performance at 320Mbps. However, HPNA adapters can extend further than MoCA (or Powerline), for distances up to 5,000 ft. apart (within a total maximum space of 10,00 square feet). A maximum of 10 HPNA adapters can be used on one network. Initially, HPNA only supported connections using a building's existing telephone wiring, but compatibility with coaxial cabling was introduced with HPNA 3.1. Note that not all HPNA adapters support both.
HPNA was also known as HomePNA. It is a technology standard that was developed by the Home Phoneline Networking Alliance, an incorporated, non-profit industry association. The HomePNA Alliance later merged with the HomeGrid Forum in 2013.
Powerline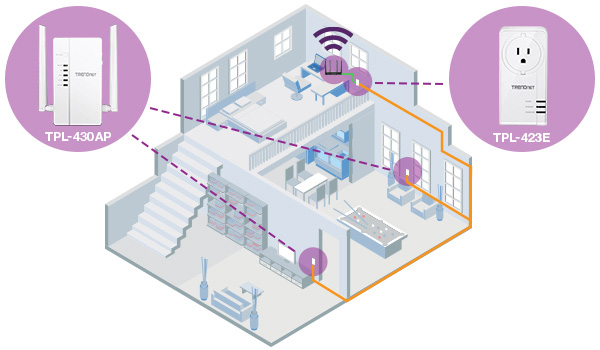 Unlike MoCA and HPNA, Powerline technology uses your home's existing electrical lines to create a wired connection. Depending on where you are from, Powerline may have a different name; Power-line communication (PLC) and Ethernet over Power are two of the most commonly used alternative phrases. (Note that Ethernet over Power is different from Power over Ethernet (PoE)).
Powerline adapters are relatively compact, and they plug directly into an available wall power outlet. Powerline adapters are very simple to use as they are plug and play. Just as with the MoCA and HPNA adapters, you need two Powerline adapters to start a network. Powerline adapters work in a very similar way to MoCA and HPNA adapters. You still need to connect a Powerline adapter to your router, and then use another adapter in a different part of the home.
With Powerline, you can utilize up to eight adapters on one network. Each adapter has a range of up to 984 ft. over a building's existing electrical wiring. Create a truly custom Powerline network in your home by mixing and matching different types of Powerline adapters (WiFi Powerline adapters, adapters with built-in power outlet, etc.). You'll also need to remember to use the same type of Powerline technology on one network (AV2 vs. G.hn, similar to MoCA vs HPNA).
MoCA vs HPNA vs Powerline: How Do You Choose?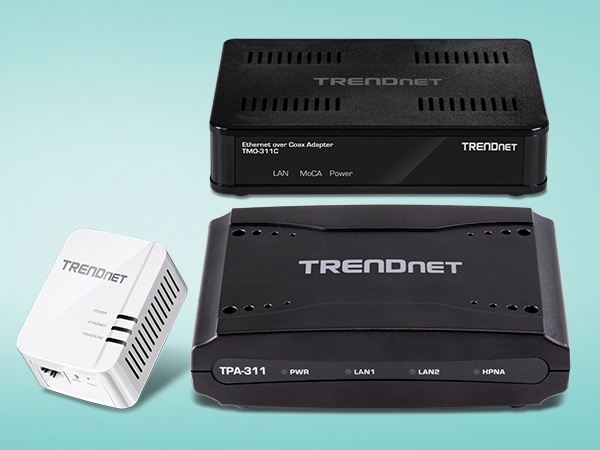 Not all homes or environments will be able to support each of these technologies. At the end of the day, it comes down to what's available in your home or workplace. Some homes don't already have coaxial cabling installed throughout the building, therefore, MoCA and HPNA adapters would not be an option for those environments. In some homes, the power grid just isn't compatible with Powerline adapters. In addition, some service providers aren't compatible with MoCA or HPNA. However, when looking at just the technical specifications, MoCA adapters offer the best throughput performance amongst the three adapter technologies discussed by far.
MoCA vs HPNA vs Powerline Comparison Chart
MoCA
HPNA
Powerline
Interface
Coaxial Cables
Coaxial Cables
Electrical Wiring
Max Speed
2.5Gbps
320Mbps
1Gbps
Reach /Linear Distance

1500m / 5000 ft. (coax cables)
305m / 1000 ft. (phone lines)

Max Adapters
16
10
8
Frequencies
500 - 1650MHz
12 - 44MHz
24 - 500kHz
Industry Organizations
MoCA
HomePNA, ITU
HomePlug, IEEE
Latest version
MoCA 2.5 Bonded
HPNA 3.1
AV2, IEEE1901
Pros

Supports WiFi functionality
Supports Triple Play services
Fastest speed
Largest number of adapters supported simultaneously
Can work in multi-family homes

Also uses copper telephone lines
Supports Triple Play services
Longest range

Supports WiFi functionality
All homes have electrical

Cons

Not all homes prewired with coax
Shortest range

Frequency can overlap with VDSL and DOCSIS
Not all homes prewired with coax
Slowest speed

May not work with GFCI outlets and AFCI breakers
Lowest number of adapters supported simultaneously