How do I connect to my wireless network using a TEW-703PI(L)?
Note: The TEW-703PI & TEW-703PIL are wireless clients. Your existing wireless Router or access point defines all of your wireless settings. This includes all security measures employed by your wireless Router or access point, such as Encryption, MAC Address Filters and Access Control Lists. If you are unsure of what your wireless network settings are, please verify the settings in your wireless Router or access point.
Step 1: On the bottom right-hand corner of the screen, double-click on the Wireless Configuration Utility icon. On Windows 7, if the icon does not appear, click the Show hidden icons arrow.
Step 2: Click Available Networks. Select an SSID under Available Networks then click Add Profile. The SSID is the wireless network name of your wireless Router or access point.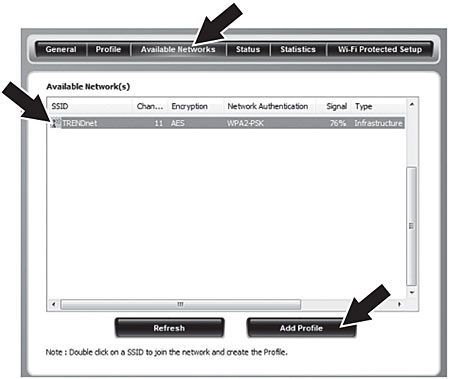 Step 3: If your wireless network was secured you will be required to enter the correct Network Authentication, Data Encryption and Network Key. After you have entered and confirmed your Network Key click OK.