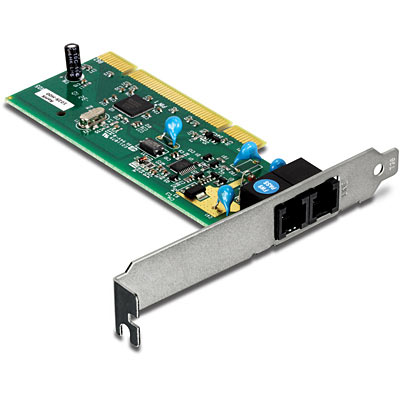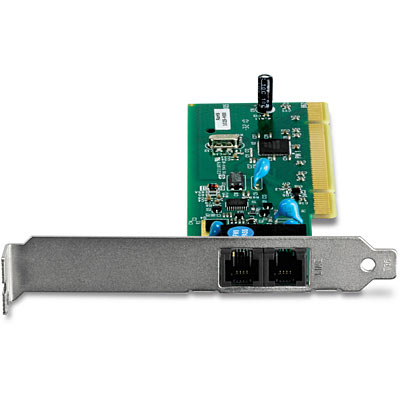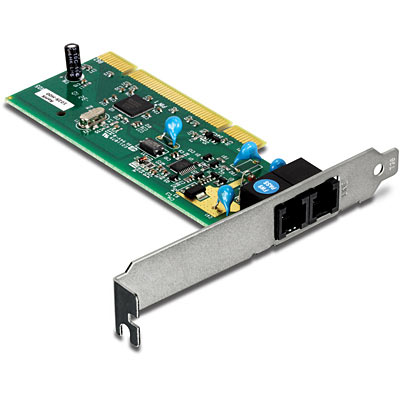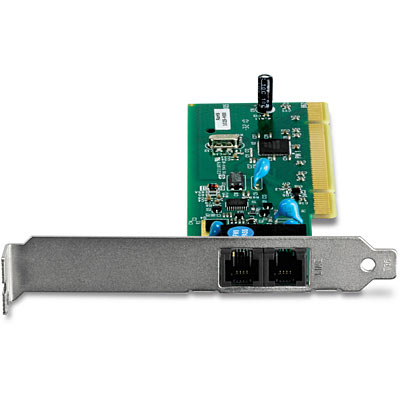 56K PCI Data/Fax/TAM Modem
TFM-PCIV92A (Version B1.xR)
Save time with fast data transfer rates
Quickly network this compact device to your computer
DISCONTINUED PRODUCT
The TFM-PCIV92A (Version B1.xR) has been discontinued. For a list of discontinued products,
click here
.
Utility
Filename: Driver_Utility_TFM-PCIV92A(B1.21).zip
SHA-1 Checksum: 6950BEF4A39A0D8C50EAC9F34E4CFDFE60987259
Date
7/25/2017
File Size
251.39 mb
User's Guide
Filename: UG_TFM-PCIV92A(B1.21).pdf
Date
10/18/2011
File Size
3.14 mb


Hardware
Interface

PC: PCI Specification 2.2
PSTN: RJ-11

Data Mode

V.92 & V.90, V.34, V.32(bis), V.22(bis), V.23, V.21, Bell 212A, Bell 103

Error Correction
Data Compression
Fax Mode

Group III Send & Receive, ITU-T V.17, V.29, V.27ter and V.21 ch2

Power Management

ACPI Power Manager Registers

PME# pin and APM Support

Power Consumption (Input 3.3VDC)
Sleep Mode: 25mW
Idle Mode: 200mW
Operating Mode: 300mW

Dimensions

133 x 124 x 21mm (5.2 x 4.8 x 0.8 inches)

Weight
Temperature

Operating: 0°~ 55°C (32°~ 131°F)
Storage: -20°~ 60°C (-4°~140°F)

Humidity
Certifications
Functions
Supported OS

Windows® 8.1, 8, 7, Vista, XP
Mac OS® 10.4-10.9

Voice Function

TAM (USA) Support with Concurrent DRMD Detect, Ring Detect
8-Bit u– Law/A-Law/Linear Coding
TIA-695 Command Set
8000 Hz Sample Rate

Video Phone Ready

V.80 sync Access mode Supports Host-Controlled Communication Protocol
H.324 interface Support

Multiple Country

Call Progress, Blacklisting Support

Other

Single Profile Stored in Host
Modem and Audio Paths Concurrent Across PCI Slot
DTMF
PACKAGE CONTENTS
TFM-PCIV92A
Multi-Language Quick Installation Guide
CD-ROM (Driver & User's Guide)
RJ-11 Telephone Cable
Information provided in this document pertain to TRENDnet products and is subject to change at any time, without notice.