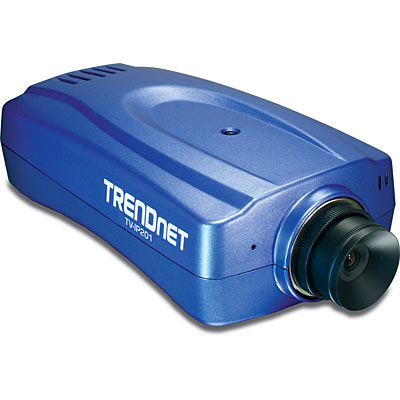 Network Camera Server w/ Audio
TV-IP201 (Version: v1.0R)
View streaming video, hear sounds and record from any Internet connection
Enjoy high quality VGA streaming video
Program motion detection recording, email alerts and more with free software

TV-IP201 Internet audio Camera Server is the perfect device for remote monitoring and transmitting real-time events over the Internet. The TV-IP201 functions as a video/audio/surveillance camera allowing you to view live events with your web browser via Internet or Intranet. Up to 32 cameras can be remotely managed with the bundled IP View software. This Network Camera Server has M-JPEG quality streaming video, automatic image capture, and event notification via e-mail, making it the ideal solution for Internet video broadcasting applications.
ProView cameras are not compatible with TRENDnet's SecurView camera application for SecurView cameras.
Features
Supports M-JPEG Compression and Audio Monitoring
Built-in RS-485 connectors for Pan & Tilt control device (additional Pan & Tilt control device required)
Supports ActiveX Control for Internet Explorer and Java applet for Internet Explorer and Netscape Navigator
Allows for Remote Access from Web Browser for Live Image Viewing and listening
Supports TCP/IP networking, SMTP e-mail, HTTP and other Internet related protocols
Supports Web Configuration with Password Protection
Powerful Windows IPView Application Software for multiple cameras monitoring, motion detection alerts, image capturing, and video recording (Windows 98/ME/2000/XP)
Built-in I/O Ports to Trigger Alarm and Email Notification
Broad Range of Applications for Monitoring Homes, Offices, Banks, Hospitals, and a Variety of Private and Public Monitoring
3-year limited warranty
ProView cameras are not compatible with TRENDnet's SecurView camera application for SecurView cameras.
Specifications
Camera Specifications
Image Sensor
Sensor
1/4" Color CMOS Sensor
Resolution
640 x 480 pixel
Lens
f :6.0mm F1.8 Lens (CS-Mount Standard, Replaceable)
Minimum Illumination:
2.5lux
Audio
MIC Input Volume
Internal MIC (mono)
Control
Adjustable
Compression
ADPCM/PCM
Video & Image
Display Standard
30fps@CIF, QVGA, VGA
Compression
M-JPEG
Resolution& Light Frequency
176 x 144, 320 x 240, 640 x 480 Outdoor/Indoor/50Hz/60Hz
Frame Rate Setting
1, 3, 7, 12, 15, 25, 30 (Depends on video format)
Mirror Function
Vertical / Horizontal
Control
Yes (Brightness/ Contrast/ Saturation/Sharpness)
Hardware Specifications
Communication
LAN
10/100Mbps Auto-Sense, Auto-MDIX
Protocol
HTTP, FTP< TCP/IP, UDP, ARP, ICMP, DHCP, PPPoE, DDNS, SMTP, UPnP
Software
Browser
Internet Explorer 5.0 or above Netscape 6.0 or above
Application
IP View and Active X
Supported OS
Windows 98SE, ME,2000,XP, Vista
System
CPU
RDC1610
SDRAM/Flash
16MB/4MB
OS
Linux
I/O & Control
Input
1 set, 2 pin (photo relay; Active High: 9~40V DC; Dropout: 0 VDC)
Output
1 set, 2 pin
(photo relay. Close circuit current: 70mA~100mA; 30Ohm. Open circuit voltage: 240VAC or 350VDC)
RS-485
Half Duplex (to control external pan/tilt device
Requirements
Memory Size
512MB or above
Intel Celeron 1.1GHz or above (Pentium 4 Recommend) VGA card resolution: 800 x 600 or above
Note: According to Engineer, to record 8 Cameras at the same time, will require at least P4 3.0GHz, 1GB RAM.
Physical/Environmental
Dimension
180 x 83 x 47mm (7.1 x 3.3 x 1.9in.)
Weight
Camera: 247g (8.7oz.)
Stand: 116g (4.1oz.)
Stand Height
128 mm (4.7 inches)
Power
5VDC 2.5A External Power Adapter
Consumption
4.5 Watt max.
Temperature
Operating: 5°C ~ 40°C (41°F ~ 104°F)
Storage: -25°C ~ 50°C (-13°F ~ 122°F)
LED
Power: Blue
Link/Active: Orange
Humidity
5% ~ 95% Non-Condensing
Safety Emissions
CE, FCC




Package Contents
TV-IP201
Utility CD-ROM
Multi-Language Quick Installation Guide
RJ-45 Ethernet Cable
Power Adapter (5V 2.5A)
Ordering Information
20675 Manhattan Place
Torrance, CA 90501
USA

Tel: 1-310-961-5500
Fax: 1-310-961-5511
Web: www.trendnet.com
Email: sales@trendnet.com
To Order Please Call

1-888-326-6061
Information provided in this document pertain to TRENDnet products and is subject to change at any time, without notice. Copyright © 2018 TRENDnet. All rights reserved.