Announcing the launch of TRENDnetTV later this month!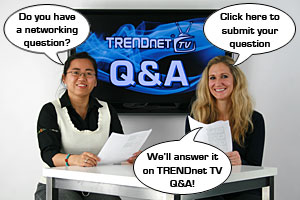 TRENDnetTV.com is dedicated to providing you with useful networking hardware information. You will be able to find information on TRENDnetTV.com for people who are new to networking, segments on TRENDnet's latest products, useful Do It Yourself tips and tricks and a Question and Answer taping that answers questions from you!
Sneak Peak: 7" Wireless Internet Camera and Photo Monitor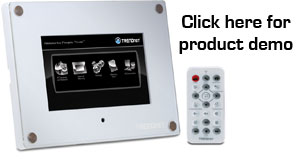 This is no photo frame!
The world's first 7" Wireless Internet Camera and Photo Monitor (model TV-M7) connects to your wireless network, detects wired and wireless TRENDnet Internet Security Cameras and streams camera video in real time. It also acts like a regular photo frame—it displays photo slideshows, streams personal videos and plays music.
Users previously needed a computer to view Internet camera streaming video. Now they can view streaming video even when their computer is turned off! Monitor up to 4 TRENDnet cameras on one screen or scan between cameras using your wireless network. View key entry points, property, public areas, baby rooms and other sensitive areas in real time.