Direktionale 24dBi High-Gain-Außenantenne

TEW-OA24D (Version 2.0R)

High performance 24 dBi reflector grid antenna provides long distance point-to-point networking
Compatible with wireless b, g and n standards
Ensure protection from lightning strikes with TRENDnet's TEW-ASAK Outdoor Arrestor Kit
Includes mounting kit




Ausgelaufene Produkte

The TEW-OA24D (Version 2.0R) has been discontinued. For a list of discontinued products, click here.
Hardware
Frequenzbereich:
Verstärkungsfaktor:
Stehwellenverhältnis:
Polarisation:
Strahlbreite/horizontal:
Strahlbreite/vertikal:
Rückdämpfung:
Vert. Neigungswinkel:
Belastbarkeit:
Impedanz:
Anschlusskabel:
Anschlusstyp:
Max. Windgeschw:
Temperatur:
Luftfeuchtigkeit:
Blitzschutz:
Antennenart:

Direktional, Gitterantenne

Montageart:

Stabmontage. Durchmesser max. 50 mm

Gewicht:
Abmessungen (Endprodukt)
Garantie: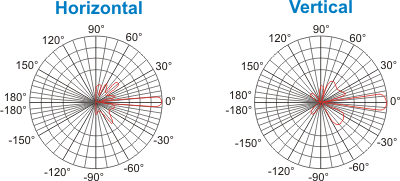 Für eine optimale Erweiterung der Reichweite Ihrer drahtlosen Antenne empfehlen wir Ihnen, die Begutachtung des Standorts, die Einhaltung der Sicherheitsvorkehrungen und die korrekte Installation mit Hilfe eines professionellen Installateurs vorzunehmen.