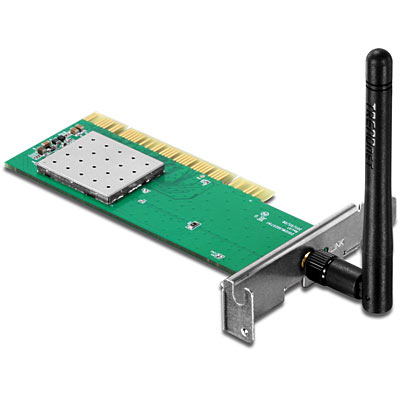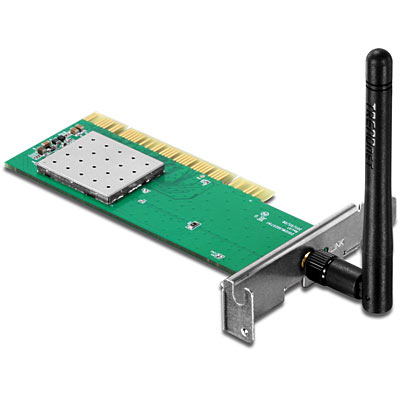 150Mbits/s Low Profile W-LAN N PCI Adapter
TEW-703PIL (Version v1.1R)
Hochgeschwindigkeits W-LAN n Verbindung für einen Low-Profile Desktop PC
LED Anzeige zeigt Verbindungsstatus an
Abnehmbare Antenne
Erweiterte W-LAN-Verschlüsselung
DISCONTINUED PRODUCT
The TEW-703PIL (Version v1.1R) has been discontinued. For a list of discontinued products,
click here
.
Hilfsprogramme
HilfsprogrammeVersion:
1.12b03
Release Date
: 6/2014
Notes
:
Added support for Windows® 8.1
Dateiname: UtilityDriver_TEW-703PI_PIL.zip
SHA-1 Checksum: F32F174D16DD30ADF92E00CCAB65AF45AB44E433
Datum
7/28/2017
Dateigröße
20.61 mb
Kurzanleitung zur Installation
---
---
---
---
---
---
Bedienungsanleitung
Dateiname: UG_TEW-703PI_703PIL(V1.0R).pdf
Datum
4/4/2017
Dateigröße
1.78 mb


Hardware
Schnittstelle

32-Bit PCI 2.1 Bus
Zu Low-Profile Desktop PCs kompatibel

Standards

IEEE 802.11b, IEEE 802.11g, IEEE 802.11n

LED-Anzeigen

Link/ Activity (Link/Aktivität)

Stromverbrauch

Empfängermodus: 350mA (max.)
Übertragungsmodus: 400mA (max.)

Unterstützte Betriebssysteme

Windows® 8.1, 8, 7, Vista und XP

Abmessungen

120 x 44 mm (4.7 x 1.75 in.)

Gewicht
Temperatur

Funktionieren: 0° ~ 40° C (32° ~ 104° F)
Lagerung: -10° ~ 70° C (14° ~ 158° F)

Feuchtigkeit

95% max. (nicht kondensierend)

Certifications
Drahtlose Verbindung
Modulationen

DBPSK/DQPSK/CCK/OFDM (BPSK/QPSK/16-QAM/64-QAM)

Antenne

1 x abnehmbare 2dBi-Antennen mit Reverse-SMA-Anschluss

Frequenzbereich
Datenrate (auto-fallback)

802.11b: biz zu 11Mbits/s
802.11g: biz zu 54Mbits/s
802.11n: biz zu 150Mbits/s

Ausgangsleistung

802.11b: 15dBm (normal)
802.11g: 14dBm (normal)
802.11n : 12dBm (normal)

Empfangsempfindlichkeit

802.11b: -84dBm (normal) @ 11Mbits/s
802.11g: -65dBm (normal) @ 54Mbits/s
802.11n: -61dBm (normal) @ 150Mbits/s

Verschlüsselung

64/128-bit WEP (Hex & ASCII), WPA/WPA2 (TKIP/AES), WPA-PSK/WPA2-PSK

Kanäle
PACKUNGSINHALT
TEW-703PIL
CD Rom (Dienstprogramm & Bedienungsanleitung)
Mehrsprachige Installationsanleitung
Die in diesem Dokument enthaltenen Informationen beziehen sich auf Produkte von TRENDnet und können jederzeit ohne vorherige Ankündigung geändert werden.