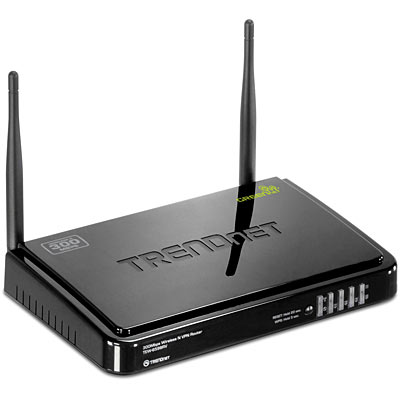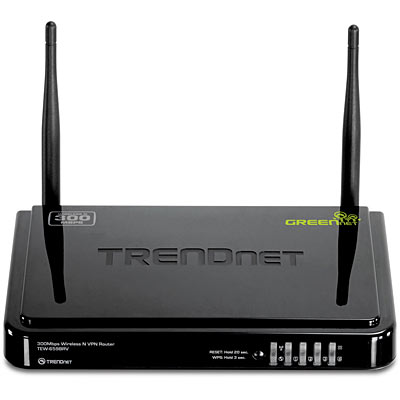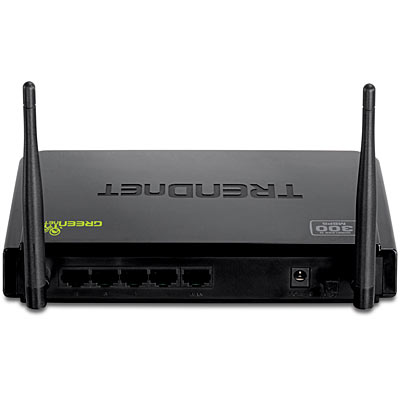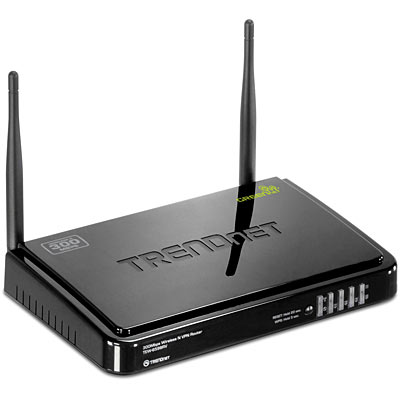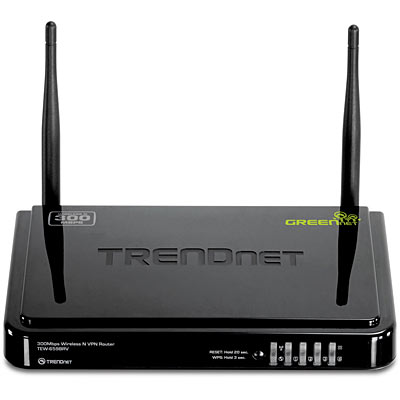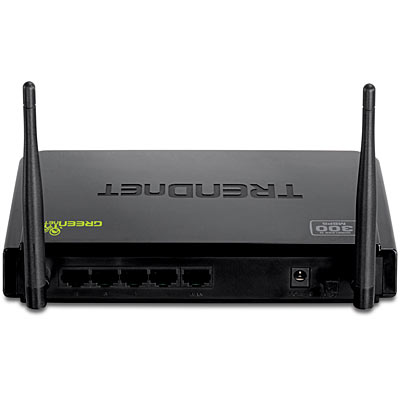 300Mbps W-LAN n VPN Router
TEW-659BRV (Version v1.0R)
Bis zu 80 virtuelle private Netzwerktunnel (VPN) können festgelegt werden
IPSec, L2TP, und PPTP VPN Pass-Through Unterstützung
300Mbps W-LAN n Standard
One-Touch WPS W-LAN Anbindung
DISCONTINUED PRODUCT
The TEW-659BRV (Version v1.0R) has been discontinued. For a list of discontinued products,
click here
.
Firmware
Aktualisieren Sie die Firmware von TRENDnet-Produkten NICHT über eine drahtlose Verbindung.
Wenn die Firmware über eine drahtlose Verbindung aktualisiert wird, kann das Produkt Schaden nehmen. Führen Sie Aktualisierungen deshalb bitte nur über verdrahtete Verbindungen durch.
Firmware Version: 1.00.02
Release Date: 11/17
Note:
Erste Ausgabe
Dateiname: FW_TEW-659BRV_v1.0R(1.00.02).zip
SHA-1 Checksum: F15396D666281F00BE0051E66C7BE1BEDBAABB5C
Datum
7/28/2017
Dateigröße
5.44 mb
Kurzanleitung zur Installation
---
---
---
---
---
---
Bedienungsanleitung
Dateiname: UG_TEW-659BRV.pdf
Datum
2/10/2012
Dateigröße
2.91 mb


HARDWARE
Standards
IEEE 802.3 (10BASE-T), IEEE 802.3u (100BASE-TX), IEEE 802.11b/g/n
WAN
1 x 10/100 MBit/s WAN-Port (Internet)
LAN
4 x 10/100 MBit/s Auto-MDIX-LAN-Port
Ein/Aus Netzschalter (Power)
Elektronischer Ein/Aus Netzschalter
WPS Taste/ Rücksetztaste
Automatische W-LAN Verbindungstaste (3 Sekunden lang gedrückt halten)
Werkseinstellung (20 Sekunden lang gedrückt halten)
Verbindungsart
Dynamic IP, Static (fixed) IP, PPPoE, PPTP, L2TP
Firewall
NAT, SPI, und DoS Prävention
VPN
Bis zu 80* Tunnel
PPTP/L2TP Server und Client – jeder bis zu 5 Benutzerkonten (mehrfache Logins pro Konto)
IPsec/L2TP/PPTP VPN Pass-Through- Bis zu 100 Sitzungen
GRE- Bis zu 8 Tunnel
IPsec VPN Protokolle
Verschlüsselung(DES, 3DES, AES-128/192/256 bit), Authentifizierung (MD5, SHA1), DH/PFS Gruppen (1-18), Verschlüsselungsmanagement (Manuell/IKE), voreingestelltes Passwort (PSK), Encapsulation (ESP, AH, ESP+AH), Modus (Haupt/Aggressiv), NAT Traversal, NetBIOS über IPsec, XAUTH, Keep-Alive, Dead-Peer-Detection (DPD), Lokal/Remote ID (FQDN, E-Mail, Key ID)
PPTP/L2TP VPN Protokolle
Authentifizierung(PAP, CHAP, MS-CHAP v1/2), Verschlüsselung(MPPE-40/56/128 bit)
Zugangskontrolle
Virtuelle Server, Packet MAC/IP Packet Filter, URL/Keyword Filter, DMZ Host, One-to-One NAT, UPnP, und IGMPv1/2 Pass-Through
Uhrzeit/Zeitplan
Uhrzeit über NTP oder manuell einstellen und Zeitpläne erstellen: W-LAN, virtuell Server, Packet Filter und QoS
Routen
Statische und dynamische RIP v1/2
Servicequalität
Servicebasierter IP/(TCP/UDP) Port mit 3 Prioritätsreihen (Hoch, Normal, Niedrig) und WMM
Verwaltung/Überwachung
Lokal/Remote Konfiguration, Firmware Upgrade, Backup/Wiederherstellung Konfiguration über Webbrowser
Internes System Log, Syslog, E-Mail Warnung, SNMPv1/v2c, Ping-Test Tool und Wake-on-LAN (WoL)
LED-Anzeigen
Status, LAN1~LAN4, WAN (Internet), WLAN/WPS
Stromversorgung

Eingang: 100~240V AC, 50~60Hz
Ausgang: 12V DC, 1A

Stromverbrauch
5.4 Watts (max.)
Abmessungen
L x W x H)
189 x 118 x 33 mm (7.4 x 4.6 x 1.3zoll)
Gewicht
272 g (9.6unzen)
Temperatur

Funktionieren : 0°~ 40°C (32°F~ 104°F)
Lagerung : -10°~ 90°C (14°F~158 °F)

Feuchtigkeit
Max. 95% ( nicht kondensierend )
Zulassungen
CE, FCC
Drahtlose Verbindung
Frequenzbereich
2.412 ~ 2.472 GHz
Access-Point Modus
Access Point (AP) und W-LAN Verteilungssystem (WDS)
SSID
Senden mit bis zu 4 SSIDs (WLAN Namens Identifikation) mit unterschiedlichen Wireless-Verschlüsselungen
Sicherheit
64/128-Bit WEP (HEX & ASCII), WPA/WPA2 RADIUS, WPA/WPA2-PSK
Antenne
2 feste 2dBi-antennen
modulationen
DSSS, BPSK, QPSK, DBPSK, DQPSK, CCK, OFDM (BPSK/QPSK/16QAM/64QAM)
Datenrate

802.11b: bis zu 11 MBit/s
802.11g: bis zu 54 MBit/s
802.11n: bis zu 300 MBit/s **

Ausgangsleistung

802.11b: 17dBm (normal)
802.11g: 14dBm (normal)
802.11n: 12dBm (normal)

Empfangsempfindlichkeit

802.11b: -84dBm (normal) @ 11 MBit/s
802.11g: -72dBm (normal) @ 54 MBit/s
802.11n: -66dBm (normal) @ 300 MBit/s

Kanäle
1~ 11 (FCC), 1~13 (ETSI)
PACKUNGSINHALT
TEW-659BRV
Mehrsprachige Installationsanleitung
CD-ROM (Gebrauchsanleitung)
Netzwerkkabel (1.5m / 5ft)
Netzteil (12V DC, 1A)
Die in diesem Dokument enthaltenen Informationen beziehen sich auf Produkte von TRENDnet und können jederzeit ohne vorherige Ankündigung geändert werden.