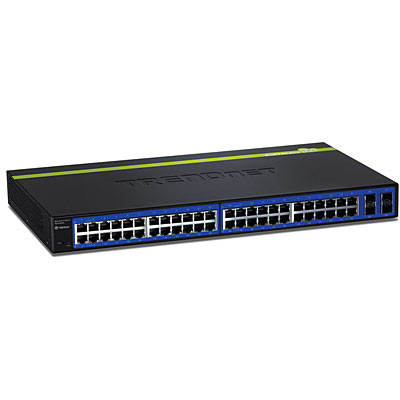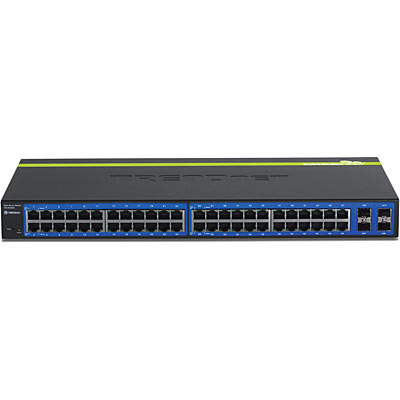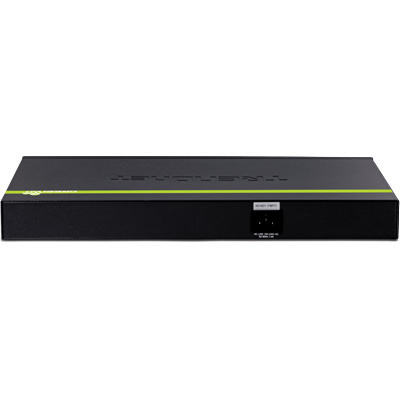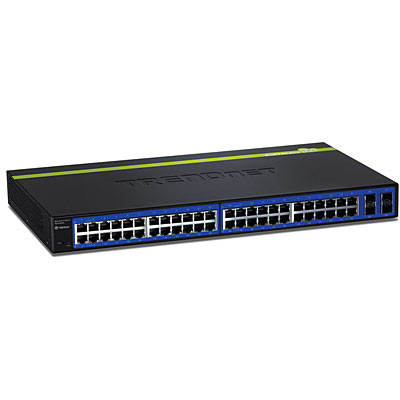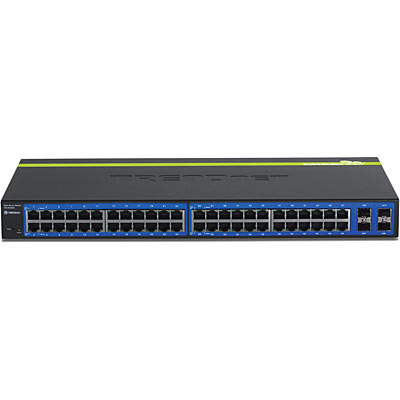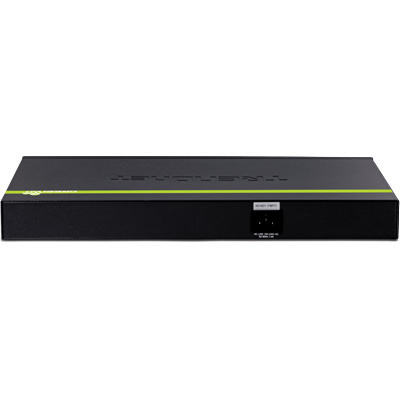 48-Port Gigabit Web Smart Switch
TEG-448WS (Version C1.1R)
Unterstützt IPv6, 802.3ad sowie Private und Voice VLAN
48 Gigabit Ports
4 gemeinsam genutzte SFP-Steckplätze
Rack-montierbares Metallgehäuse
Intelligente Lüfter reduzierten den Energieverbrauch
DISCONTINUED PRODUCT
The TEG-448WS (Version C1.1R) has been discontinued. For a list of discontinued products,
click here
.
Firmware
Firmware Version: 1.00.18
Release Date: 10/2018
Note:
Added ability to specify port description.
Modified maximum length from 12 to 20 alphanumeric characters.
Fixed issue logging into the switch management GUI page after firmware upgrade.
Fixed issue changing switch IP address to other class B IP addresses other than 172.16.x.x/16.
Added IGMP fast leave to IGMP snooping settings.
Dateiname: FW_TEG-448WS_C1(1.00.18).zip
SHA-1 Checksum: 54FBDC72AFB15B97AB7E24AE3192A50440B9DC4F
Datum
10/29/2018
Dateigröße
10.23 mb
Other
MIB Version: 1.00.10
Release Date: 10/2018
Note:
Added LLDP-MED.
Changed DoS default value to disabled.
Added parameter to specify port description.
Updated max. password length parameter from 12 to 20 alphanumeric characters.
Added IGMP querier and IGMP fast leave parameters.
Dateiname: MIB_TEG-448WS_C1(1.00.10).zip
Datum
10/29/2018
Dateigröße
75.85 kb
Kurzanleitung zur Installation
---
---
---
---
---
---
---
---
---
---
---
Bedienungsanleitung
Dateiname: UG_TEG-448WS(C1).pdf
Datum
9/12/2014
Dateigröße
3.20 mb


Standards

IEEE 802.1d
IEEE 802.1p
IEEE 802.1Q
IEEE 802.1s
IEEE 802.1w
IEEE 802.1X
IEEE 802.1ab
IEEE 802.3
IEEE 802.3u
IEEE 802.3x
IEEE 802.3z
IEEE 802.3ab
IEEE 802.3ad
IEEE 802.3az

Geräteschnittstelle

48 Gigabit ports (ports 1-48)
4 gemeinsam genutzte SFP-Steckplätze (gemeinsam mit ports 45-48)
LED-Anzeigen

Datenübertragungsrate

Ethernet: 10 MBit/s (halb duplex), 20 MBit/s (voll duplex)
Fast Ethernet: 100 MBit/s (halb duplex), 200 MBit/s (voll duplex)
Gigabit Ethernet: 2000 MBit/s (voll duplex)

Leistung

Schalten Sie Gewebe: 96 GBit/s
RAM Pufferbetrieb: 1 MB
MAC-Adressentabelle: 16K Einträge
Jumbo Frames: 10 Kbytes
HOL Blocking Prevention
Weiterleitungsraten: 71,4 Mpps (64-byte Paketgröße)

Management

HTTP/HTTPS (SSL v2/3 TLS) Web-basierte GUI
SNMP v1, v2c, v3
RMON v1
Statische MAC Unicast-Adresse
802.3az Energiesparmodus aktivieren/deaktivieren
LLDP
Virtueller Kabeltest
IPv6: IPv6 Neighbor Discovery, IPv6 Static IP, DHCPv6, Auto configuration

MIB

MIB II RFC 1213
Bridge MIB RFC 1493
Bridge MIB Erweiterung RFC 2674
SNMPv2 MIB RFC 1907
Ethernet Interface MIB RFC 1643
Ethernet – ähnliche MIB RFC 2863
Interface- Gruppe MIB RFC2233
MIB Traps Convention RFC 1215
RMON MIB RFC 1757, RFC 2819
802.1p MIB RFC 2674
RADIUS Client Authentication MIB RFC 2618
LLDP-MIB IEEE 802.1ab
Ping MIB RFC 2925, RFC 4560

Spanning Tree

IEEE 802.1D STP (Spanning-Tree-Protokoll)
IEEE 802.1w RSTP (Rapid-Spanning-Tree-Protokoll)
IEEE 802.1s MSTP (Multiple-Spanning-Tree-Protokoll)

Link-Bündelung

Statische Link-Bündelung
802.3ad Dynamisches LACP

Quality of Service (QoS)

802.1p Serviceklasse (CoS)
DSCP (Differentiated Services Code Point)
Bandbreitenkontrolle pro Port
Queue Scheduling: Strenge Priorität, Weighted Round Robin (WRR)

VLAN

Multiple-Management VLAN-Zuweisung
Asymmetrisches VLAN
802.,1Q Markiertes VLAN
Dynamisches GVRP
Bis zu 256 VLAN Gruppen, ID-Spanne 1 - 4094
Privates VLAN (geschützte Ports)
Voice VLAN (10 benutzerdefinierte OUIs)

Multicast

IGMP Snooping v1, v2, v3 (pro VLAN)
Statische Multicast-Adresse
Bis zu 256 Multicast-Einträge

Port-Spiegelung

RX, TX, oder beides
Eins-zu-eins
Viele-zu-eins

Zugriffskontrolle

802.1X Port-basierte Netzwerkzugangskontrolle, RADIUS, TACACS+
Lokale Dial-In Benutzer-Authentifizierung
DHCP Snooping (pro VLAN)
Loopback Detection
Erkennung doppelter Adressen
Trusted Host
Denial of Service (DoS)

ACL IPv4 L2-L4 & IPv6

MAC Adresse
VLAN ID
Ether-Typ (nur IPv4)
IP-Protokoll 0 - 255
TCP/UDP Port 1 - 65535
802.1p
DSCP (nur IPv4)
IPv6 Address (nur IPv6)

Kompatibilität

Optionale Software-Hilfsdatei: Windows® 8.1, 8, 7, Vista, XP, Windows® 2003/2008 Server

Besondere Eigenschaften

Intelligente Lüfter springen an, wenn es nötig ist
IPv6
802.3az Energie sparend
Rack-Montage möglich

Stromversorgung

Eingang: 100 - 240 V AC, 50/60 Hz, Interne Stromversorgung (Netzteil)
Stromverbrauch: 34,5 Watts (max,)

Lüfter / Akustik

Menge: 2
Geräuschpegel: 50 dB(A) (max.)

MTBF
Betriebstemperatur
Betriebsluftfeuchtigkeit

Max. 90% nicht-kondensierend

Abmessungen

440 x 250 x 44,45 mm (17,3 x 9,8 x 1,75 zoll)
Rack-montierbar 1U Höhe

Gewicht
Zulassungen
Garantie
PACKUNGSINHALT
TEG-448WS
Schnellinstallationsanleitung
CD-ROM (Dienstprogramm und Bedienungsanleitung)
Stromkabel (1,8 m/6 Fuss)
Hardware für Rackmontierung
Die in diesem Dokument enthaltenen Informationen beziehen sich auf Produkte von TRENDnet und können jederzeit ohne vorherige Ankündigung geändert werden.