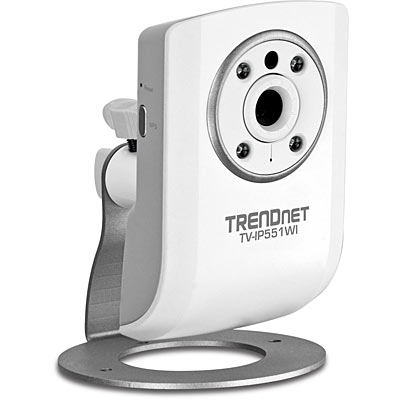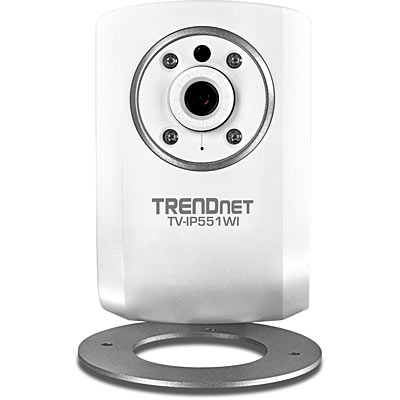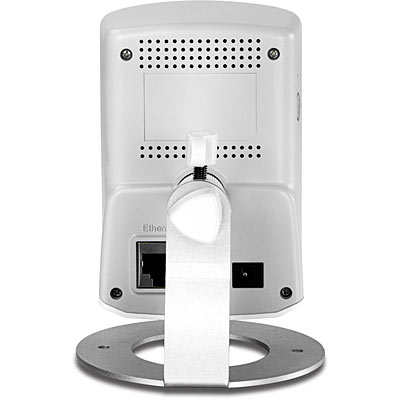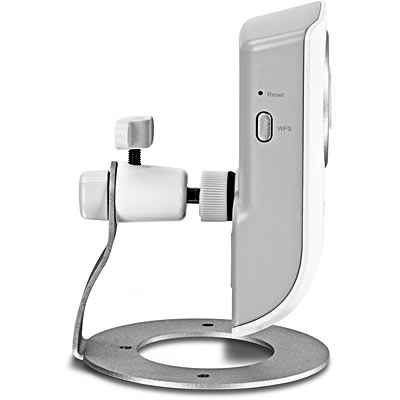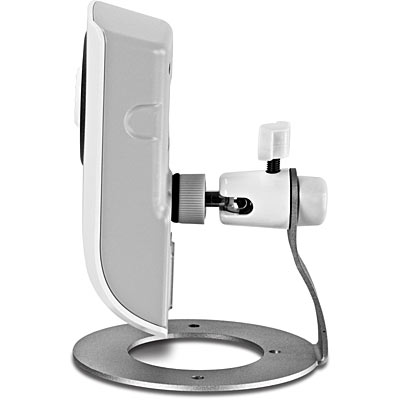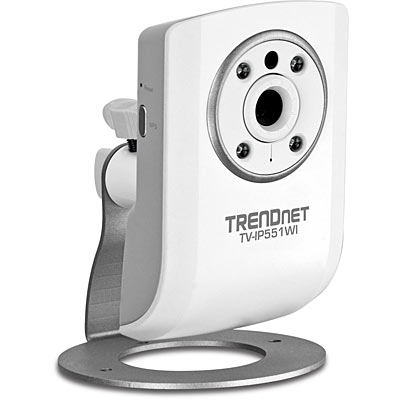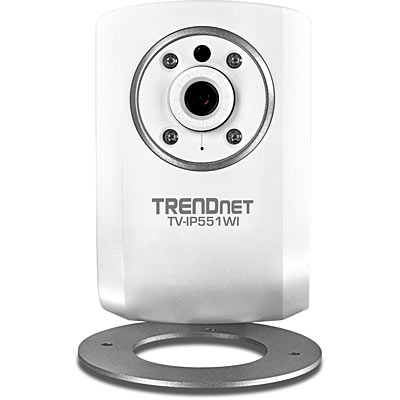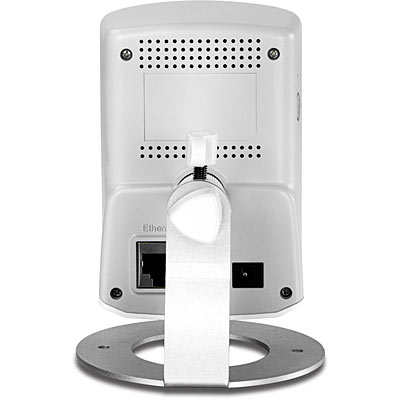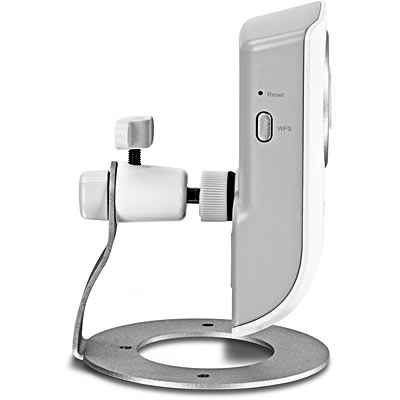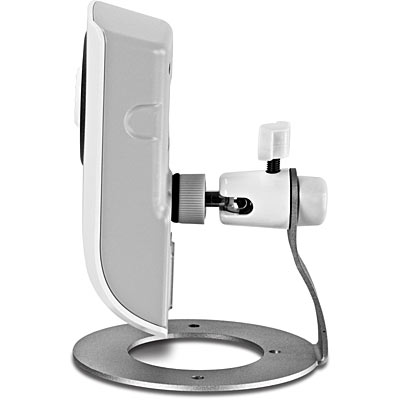 Wireless-N Internetkamera für Tag- und Nachtaufnahmen
TV-IP551WI (Version v1.1R)
Sichtweite bei Nacht bis zu 7.5 m*
Sehr schnelle Wireless-N-Verbindung
Programmierbare Bewegungsmelderaufnahmen, zeitplangesteuerte Aufnahmen, Email Warnungen und vieles mehr mit hochwertiger Zu - satzsoftware
Einfache Audiofunktion
Montagesatz für Wand / Decke
DISCONTINUED PRODUCT
The TV-IP551WI (Version v1.1R) has been discontinued. For a list of discontinued products,
click here
.
Drivers
Dateiname: UG_TV-IP551W_TV-IP551WI(v1.0R).pdf
Datum
5/19/2014
Dateigröße
4.20 mb
---
Dateiname: GE_Web_TV-IP551WI(1.0).pdf
Datum
5/19/2014
Dateigröße
2.93 mb
Hilfsprogramme
Dateiname: setupwizard(1.2.3.2904).zip
SHA-1 Checksum: 111694484772DF57FE9771FA93D540C8F1BF3013
Datum
7/27/2017
Dateigröße
1.29 mb
Firmware
Aktualisieren Sie die Firmware von TRENDnet-Produkten NICHT über eine drahtlose Verbindung.
Wenn die Firmware über eine drahtlose Verbindung aktualisiert wird, kann das Produkt Schaden nehmen. Führen Sie Aktualisierungen deshalb bitte nur über verdrahtete Verbindungen durch.
Version: v1.07.01
Date: 10/2015
Note:
Digital certificate update
Security update
Dateiname: FW_TV-IP551WI_V1(1.07.01).zip
SHA-1 Checksum: E65A201378CD147F8BE898258A107D7E5F260FD4
Datum
7/27/2017
Dateigröße
3.72 mb
Software
Software Version: 2.5.9
Release Date: 4/2017
Notes:
Fixed TV-IP420P P/T issue
Dateiname: TRENDnetViewPro(2.5.9).zip
SHA-1 Checksum: 7CD1D9AE621816395E9FE9644B651F3696388215
Datum
7/27/2017
Dateigröße
41.15 mb
Kurzanleitung zur Installation
---
---
---
---
---
---
---
---
---
---
---
Bedienungsanleitung
Dateiname: UG_TRENDnetVIEW_Pro.pdf
Datum
5/19/2014
Dateigröße
5.74 mb


Kamera
Allgemein

Sensor: 1/5" CMOS-Sensor
Bord-Objektiv
Brennweite: 4mm
F/No: 1.5
Mindestbelichtung: 0 lux
Tiefenschärfe: 20 cm bis unendlich
Sicht: Horizontale: 38.0°
Vertikale: 28.7°
Diagonal: 46.5
Digitaler Zoom: 4x

Audio

Eingebautes Rundum-Mikrofon
Empfindlichkeit: -38dB +/- 3dB (max. 5 Metern)
Frequenzbereich: 100~2 Hz
Format: PCM

Tag/Nacht

Eingebautes ICR
Nachtsicht (IR) bis zu 7.5 Metern

HARDWARE
Netzwerk

IEEE 802.3u 10/100Mbits/s Auto-MDIX Fast Ethernet

LED-Anzeige

Power (Stromversorgung), Link/Act (Link/Aktivität)

WPS-Taste

Aktivierung der WPS-Verbindung

Rücksetztaste

Stellt alle Einstellungen auf Herstellerstandard zurück

Stromverbrauch
Stromversorgung

Eingang: 120~240V AC, 50~60Hz, 0.2A
Ausgang: 5V DC, 1.2A (Externes Netzteil)

Abmessungen

75 x 115 x 30 mm (2.95 x 4.5 x 1.2 zoll)

Gewicht
Temperatur

Betrieb bei: 0°C ~ 40°C (32°F ~ 104°F)
Lagerung: -15°C ~ 60°C (5°F ~ 140°F)

Luftfeuchtigkeit

Max 95% (nicht kondensierend)

Zulassungen
ANFORDERUNGEN
Verwaltungsoberfläche

Internet Explorer 7.0 oder höher
Firefox 3.5 oder höher
Safari 4.0 oder höher

Benötigte Software

Windows 7 (32/64-bit), Vista (32/64-bit), XP (32/64-bit)
Windows Server 2003, 2008

Pro-Software TRENDnetVIEW

Kanal: unterstützt bis zu 32 Kameras

Aufnahme/Wiedergabe/Bewegungsmeldung/Audio

Netzwerkprotokolle
IPv4, ARP, TCP, UDP, ICMP
DHCP Client, NTP Client, DNS Client, DDNS Client, SMTP Client, FTP Client
HTTP
PPPoE
UPnP

DRAHTLOSE VERBINDUNG
Standard

IEEE 802.11b, IEEE 802.11g und IEEE 802.11n

Frequenzbereich
Modulationen

DQPSK, DBPSK, DSSS, und CCK

Antenna
Datenrate

802.11b: biz zu 11Mbits/s
802.11g: biz zu 54Mbits/s
802.11n: biz zu 150Mbits/s

Sicherheit

64/128-bit WEP, WPA/WPA2-PSK

Ausgangsleistung

802.11b: 17dBm (normal)
802.11g: 14.5dBm (normal)
802.11n: 14.5dBm (normal)

Empfangsempfindlichkeit

802.11b: -89dBm at 11Mbits/s
802.11g: -74dBm at 54Mbits/s
802.11n: -71dBm at 150Mbits/s

Kanäle
VERWALTUNG
Konto
Externe Anmeldung

Remote-Management unterstützt

Backup/Wiederherstellung

Speichern/Abrufen von Konfigurationsdateien

EINSTELLUNGEN
Bild

Helligkeit, Kontrast, Sättigung, Schärfe, Weißausgleich, drehen, spiegeln (horizontal/vertikal),schwarz/weiss, in Gebäuden, im Freien Zeitplanung

Video-Einstellung

Art des Encoders: MJPEG Auflösung: 640 x 480, 320 x 240, 160 x 120
Maximale Bildwiederholungsrate: VGA @ 20fps, QVGA @ 30fps, QQVGA @ 30fps
JPEG Qualität: sehr gering, gering, mittel, hoch, sehr hoch

Aufnahme

Ereignisbezogen (Bewegungsmeldung), und zeitplangesteuert

Schnappschuss

Auslöseereignis: Bewegungsmeldung
Aktion: Warm-Email schicken und/oder mit FTP hochladen
Momentaufnahme in Echtzeit

Port Einstellungen

HTTP port: 80 (voreingestellt)

Uhrzeit

Mit NTP Server synchronisieren oder Uhrzeit/Datum manuell stellen
PACKUNGSINHALT
TV-IP551WI
CD-ROM (Dienstprogramm & Bedienungsanleitung)
Mehrsprachige Installationsanleitung
Netzwerkkabel (1.5 m / 5 ft.)
Netzteil (5V DC, 1.2A)
Kamera-Montageset
Die in diesem Dokument enthaltenen Informationen beziehen sich auf Produkte von TRENDnet und können jederzeit ohne vorherige Ankündigung geändert werden.