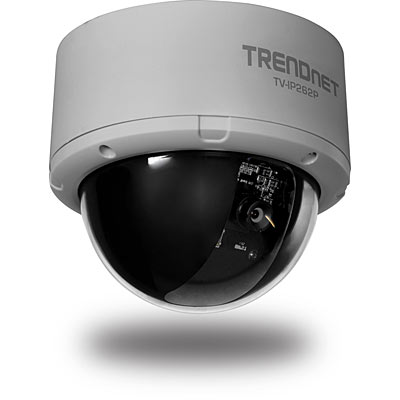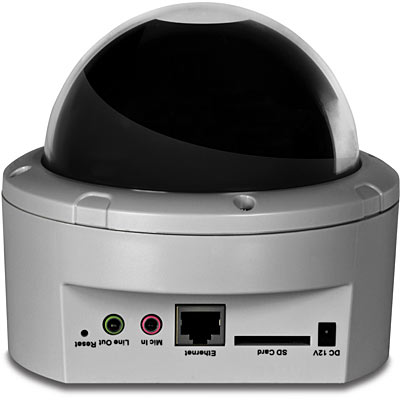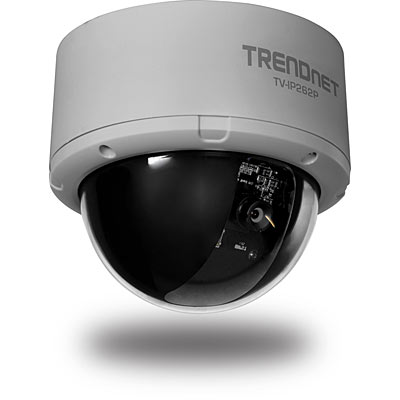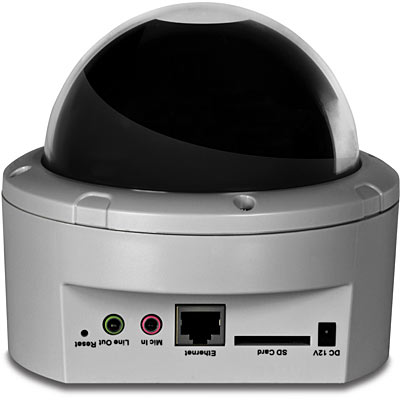 Megapixel HD PoE-Dome-Internetkamera
TV-IP262P (Version v1.0R)
Megapixel-Auflösung mit H.264-Komprimierung
Kann in Gebäuden manipulationssicher an Wänden und Decken angebracht werden
Einstellbare feste Kameraposition
Stromversorgung über Ethernet (PoE) senkt Installationskosten
Kostenlose Software für Bewegungserkennung, E-Mail-Benachrichtigungen u.a.
Kostenlose mobile Anzeigeanwendung
DISCONTINUED PRODUCT
The TV-IP262P (Version v1.0R) has been discontinued. For a list of discontinued products,
click here
.
Hilfsprogramme
Dateiname: Utility_IPSetup.zip
SHA-1 Checksum: 95E0585E73182C2E759D10999BB34C2B3CC6A521
Datum
7/25/2017
Dateigröße
795.25 kb
Firmware
Firmware Version: 1.0.4
Release Date: 09/2014

Fixed Active X issue.
Note:
Please do not save the camera's configuration file from the old firmware and restore it after the firmware upgrade.
After a successful firmware upgrade, please reset the camera to factory default and reconfigure the camera. We strongly recommend that you change the camera's administrator's account password.
Dateiname: FW_TV-IP262P(V1.0.4).zip
SHA-1 Checksum: 9359E127927D61EEAAD451295648EB30A191BB0A
Datum
7/25/2017
Dateigröße
5.37 mb
Software
Software Version: 2.5.9
Release Date: 4/2017
Notes:
Fixed TV-IP420P P/T issue
Dateiname: TRENDnetViewPro(2.5.9).zip
SHA-1 Checksum: 7CD1D9AE621816395E9FE9644B651F3696388215
Datum
7/25/2017
Dateigröße
41.15 mb
Kurzanleitung zur Installation
---
---
---
---
---
---
---
---
---
---
---
TrendnetVIEW Pro Kurzanleitung zur Installation
---
---
---
---
---
---
---
---
---
TrendnetVIEW App Kurzanleitung zur Installation
Dateiname: TRENDnetVIEW_App_(iOS).pdf
Datum
6/24/2014
Dateigröße
1.90 mb
---
Dateiname: TRENDnetVIEW_App_(Android).pdf
Datum
6/24/2014
Dateigröße
1.90 mb
Bedienungsanleitung
Dateiname: UG_TV-IP262P(V1.0R)_06252012.pdf
Datum
6/26/2012
Dateigröße
6.35 mb
---
Dateiname: UG_TRENDnetVIEW_Pro.pdf
Datum
6/10/2014
Dateigröße
7.92 mb


KAMERA
Allgemein

Sensor: 1/4" Megapixel Farb-CMOS-Sensor
Max Auflösung: 1280 x 1024 pixels
Bord-Objektiv
Brennweite: 3.58 mm
Blendenzahl (F/No): F2.0 +/- 5%
Mindestbelichtung: 1 Lux
Sicht:
Horizontale: 63°
Vertikale: 46°
Diagonal: 74°

Audio

Mikrofon ausgang-Port (Mikrofon sind separat erhältlich)
Audioausgang-Port: Mono (Lautsprecher sind separat erhältlich)
Empfindlichkeit: -42 dB +/- 3 dB
Frequenzbereich: 100~10,000 Hz
Format: PCM/AMR

Schwenken/Neigen (manuell)

Manuelle Ausrichtung der Kamera auf endgültige feste Position
Schwenken: -175° ~ +175°
Neigen: 20° ~ 90°

SD Slot

Unterstützt SD/SDHC (bis zu 32 GB)

Hardware
Netzwerk

IEEE 802.3u 10/100 MBit/s Fast Ethernet
IEEE 802.3af PoE

LED

Power (Stromversorgung), Link/Act (Link/Aktivität) (LEDs können ausgeschaltet werden)

Rücksetztaste

Neustart oder Zurücksetzen auf Werkseinstellung

Stromverbrauch
Stromversorgung

Eingang: 100 ~ 240V AC , 0.5A, 50~60Hz
Ausgang: 12 V DC, 1.5 A Externes Netzteil (für Installationen ohne PoE)

Abmessungen

131 x 131 x 127 mm (5.2 x 5.2 x 5 zoll)

Gewicht
Temperatur

Betrieb: 0°C ~ 50°C (32°F ~ 122°F)
Storage: -15°C ~ 60°C (5°F ~ 140°F)

Luftfeuchtigkeit

Max 90% (nicht kondensierend)

Zulassungen
SYSTEMANFORDERUNGEN
Verwaltungsoberfläche

Internet Explorer 6.0 oder höher

Für TRENDnetVIEW

Windows 7 (32/64-bit), Vista (32/64-bit), XP (32/64-bit)
Windows Server 2003, 2008

TRENDnetVIEW

Kanäle: unterstützt bis zu 32 Kameras
Aufnahme/Wiedergabe/Bewegungserkennung/Audio

Netzwerkprotokolle

TCP/IP, IPv4, IPv6, UDP, ICMP
DHCP Client, NTP Cient, DNS Client, DDNS Client, SMTP Client, FTP Client
HTTP, HTTPs
Samba Client
PPPoE
UPnP
Bonjour
RTP (Echtzeit Protokoll)
RTCP (Echtzeit Kontroll Protokoll)
RTSP (Echtzeit Stream Protokoll)
SSL
ONVIF
3GPP (nur Video)

ANSTEUERUNG
Fernsteuerung

Remote-Management unterstützt

Backup/Wiederherstellung

Speichern/Abrufen von Konfigurationsdateien

EINSTELLUNGEN
Bild

Automatische Belichtung, Weißabgleich und Verstärkungsregelung
Helligkeit, Sättigung, Bildschärfe, Lichtfrequenz, und Spiegeln (horizontal/vertikal)

Video

Art des Encoders: H.264, MPEG-4, MJPEG
Kompression: 5 Stufen
Auflösung/Frame rate:
SXGA (1280 x 1024) bis zu 15fps
720p (1280 x 720) bis zu 20fps
VGA (640x480) bis zu 30fps
QVGA (320x240) bis zu 30fps
QQVGA (160x120) bis zu 30fps
Multi-Stream H.264:
SXGA, VGA, QVGA, QQVGA
MPEG-4: VGA, QVGA, QQVGA
MJPEG: SXGA, VGA, QVGA, QQVGA

Aufnahme/Schnappschuss

Aufnahmeart kontinuierlich, per Zeitplan, Bewegungserkennung, oder Schnappschuss
Ereignisverwaltung
Auslöser: Bewegung, Zeitplan
Speicherung der Videodatei auf SD-Karte oder Speichergerät
Versendung von Sofortnachrichten über Jabber-Server an Jabber-Clients

Einblendungen

Texteinblendungen: Uhrzeit, Datum und Text
Maskierungen: bis zu 2 undurchsichtige Kästen zur Abdeckung einzelner Regionen des Aufzeichnungsbereichs

QoS
Port Einstellungen

HTTP port: 80 (Rückstellung)
RTSP port: 554 (Rückstellung)

Digitaler Zoom
Dynamisches DNS
Uhrzeit

Mit NTP Server synchronisieren oder Uhrzeit/Datum manuell einstellen

Email

Unterstützt bis zu 2 Zielkonten

Systemprotokoll
PACKUNGSINHALT
TV-IP262P
Mehrsprachige Installationsanleitung
CD-ROM (Dienstprogramm, Software & Bedienungsanleitung)
Netzteil (12 V DC, 1.5 A)
Netzwerkkabel (1.5 m / 5 ft.)
Kamera-Montageset
Die in diesem Dokument enthaltenen Informationen beziehen sich auf Produkte von TRENDnet und können jederzeit ohne vorherige Ankündigung geändert werden.