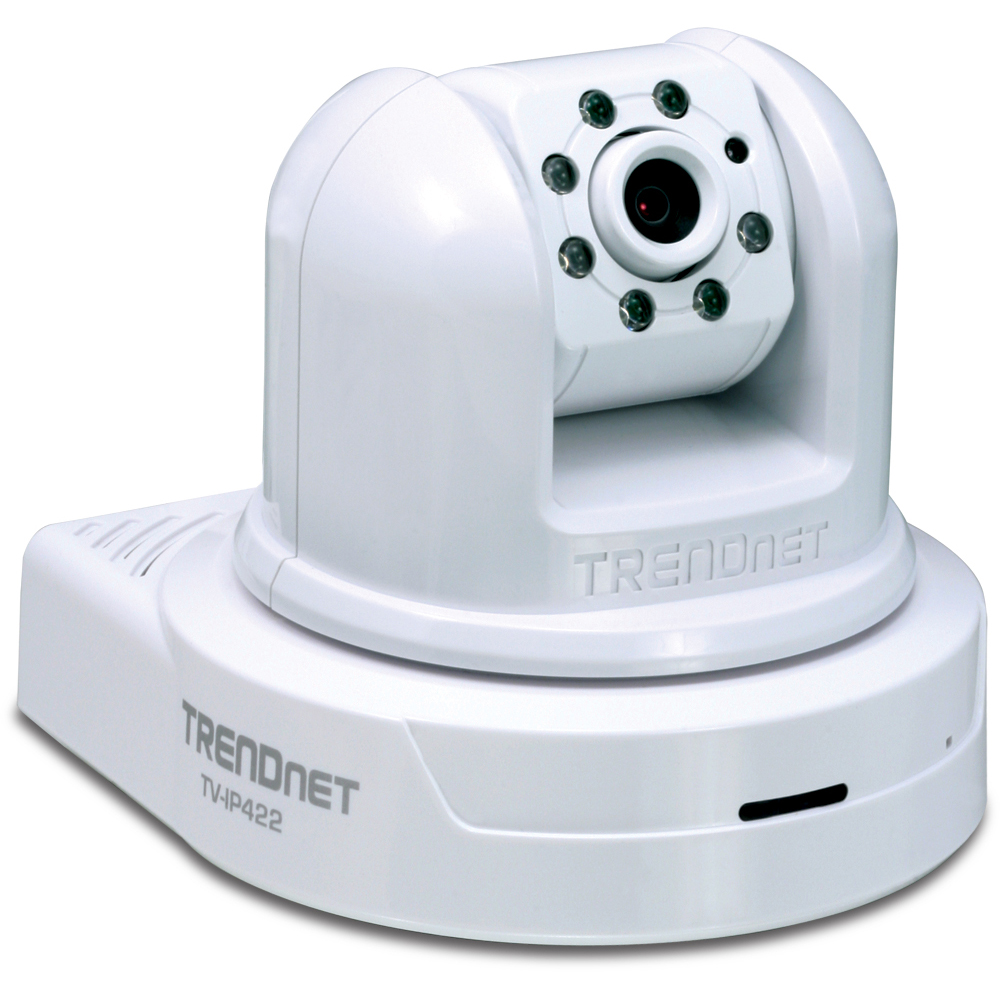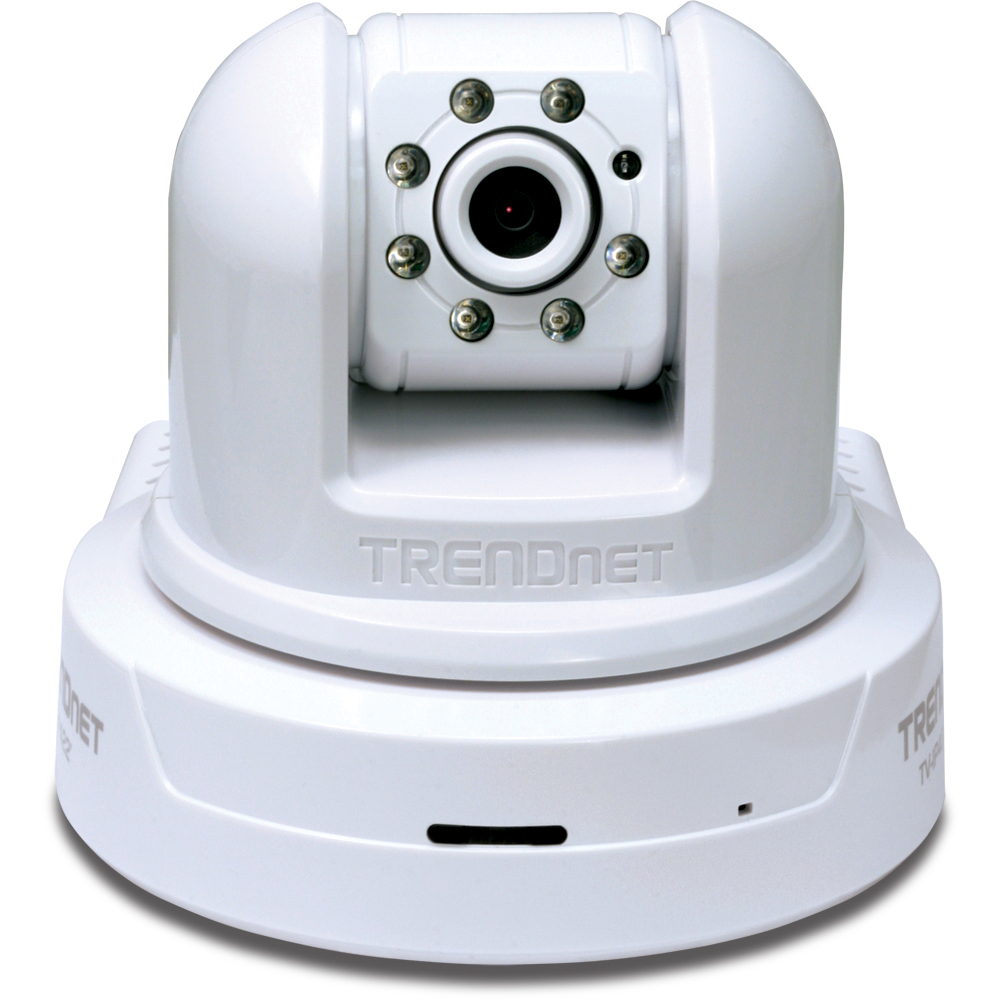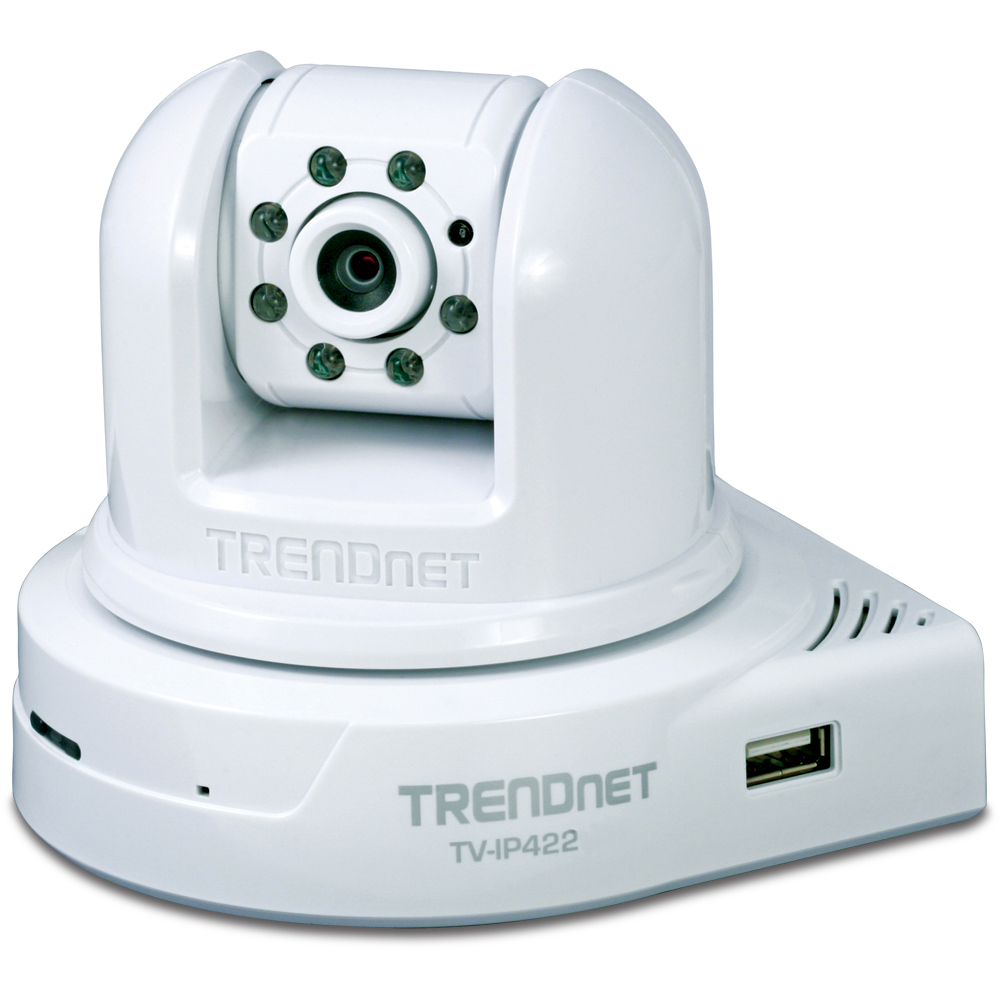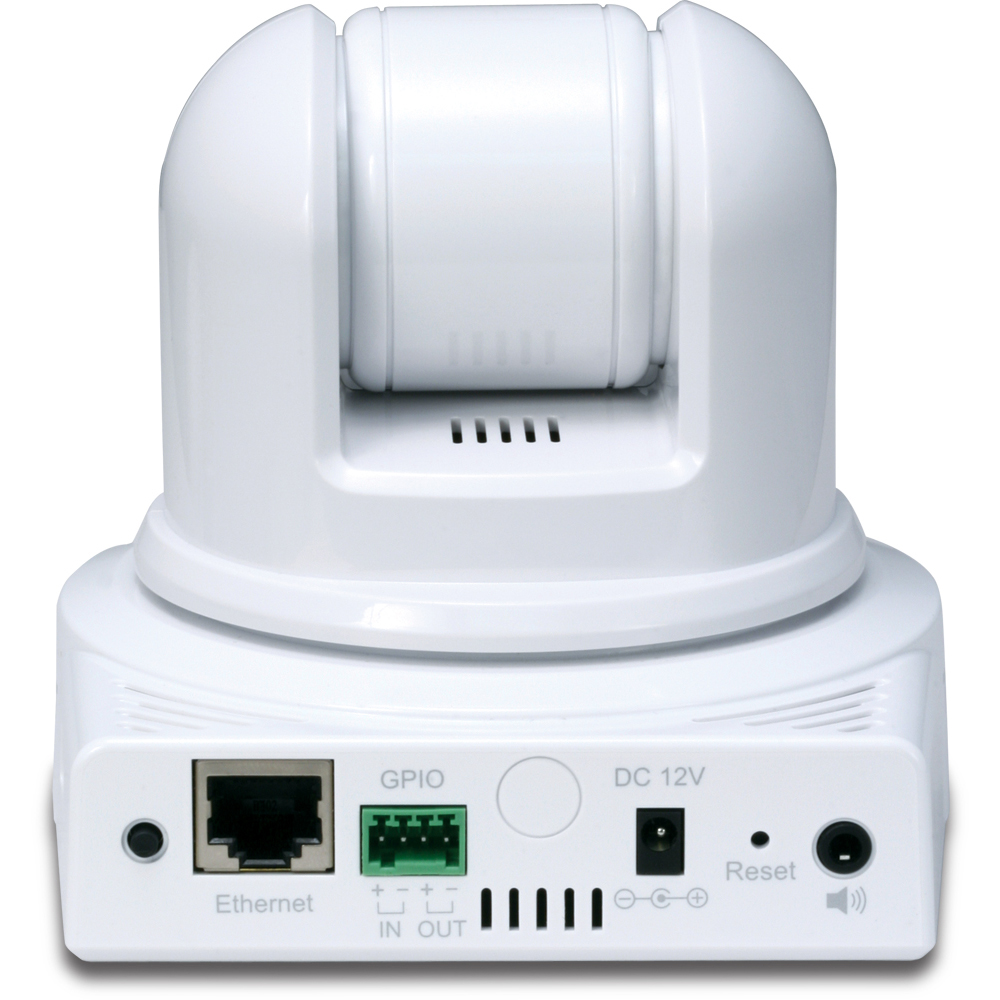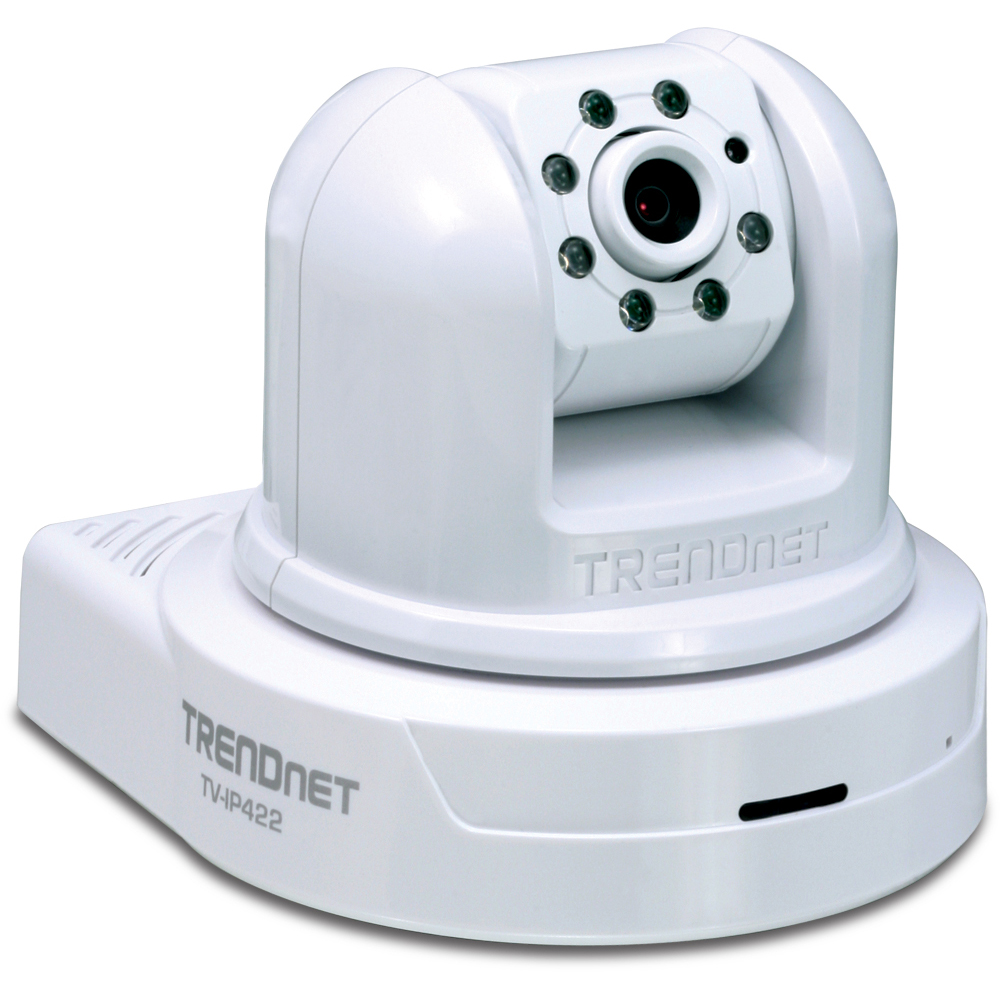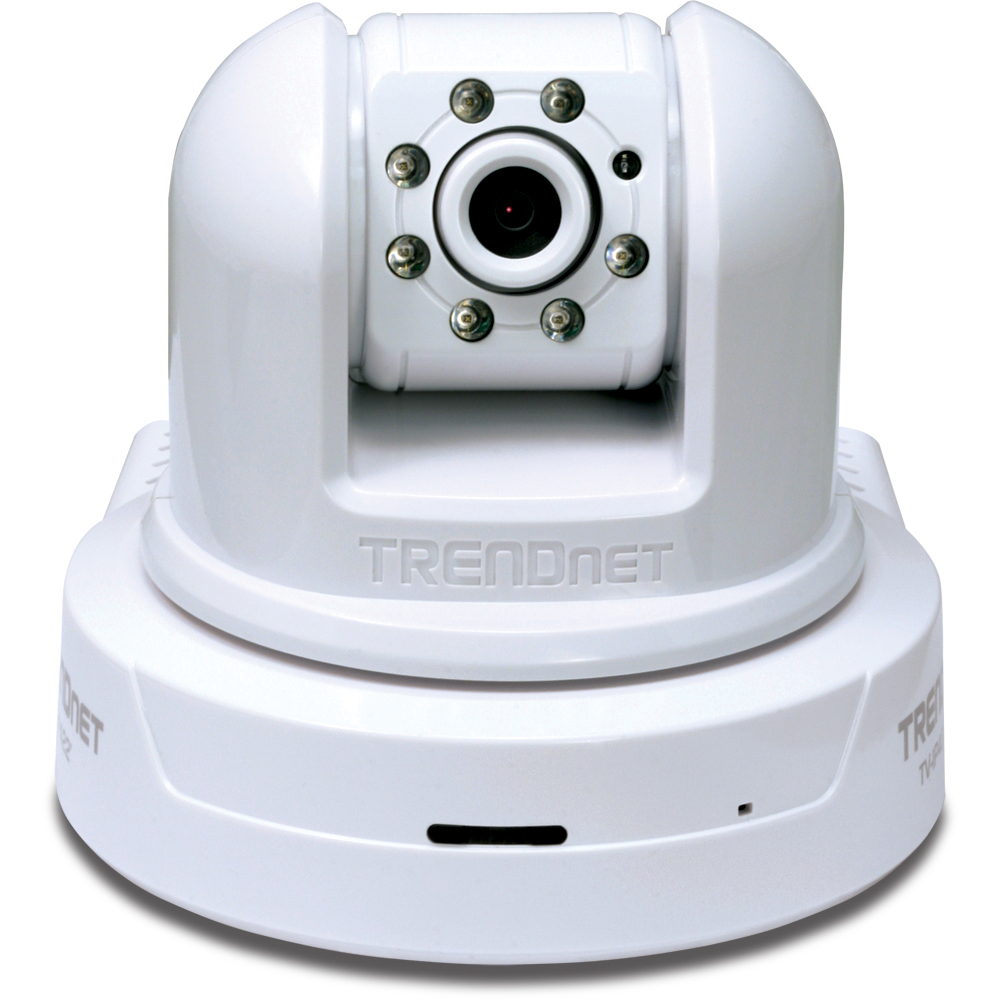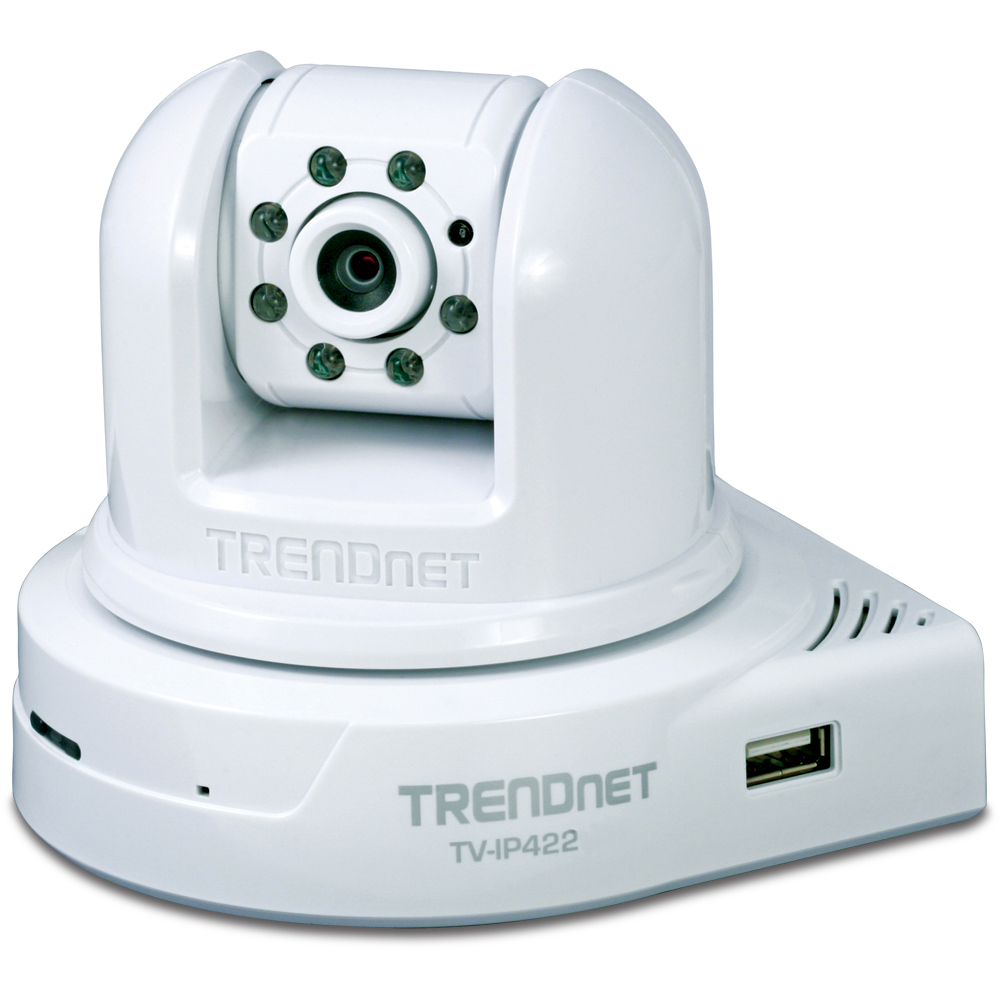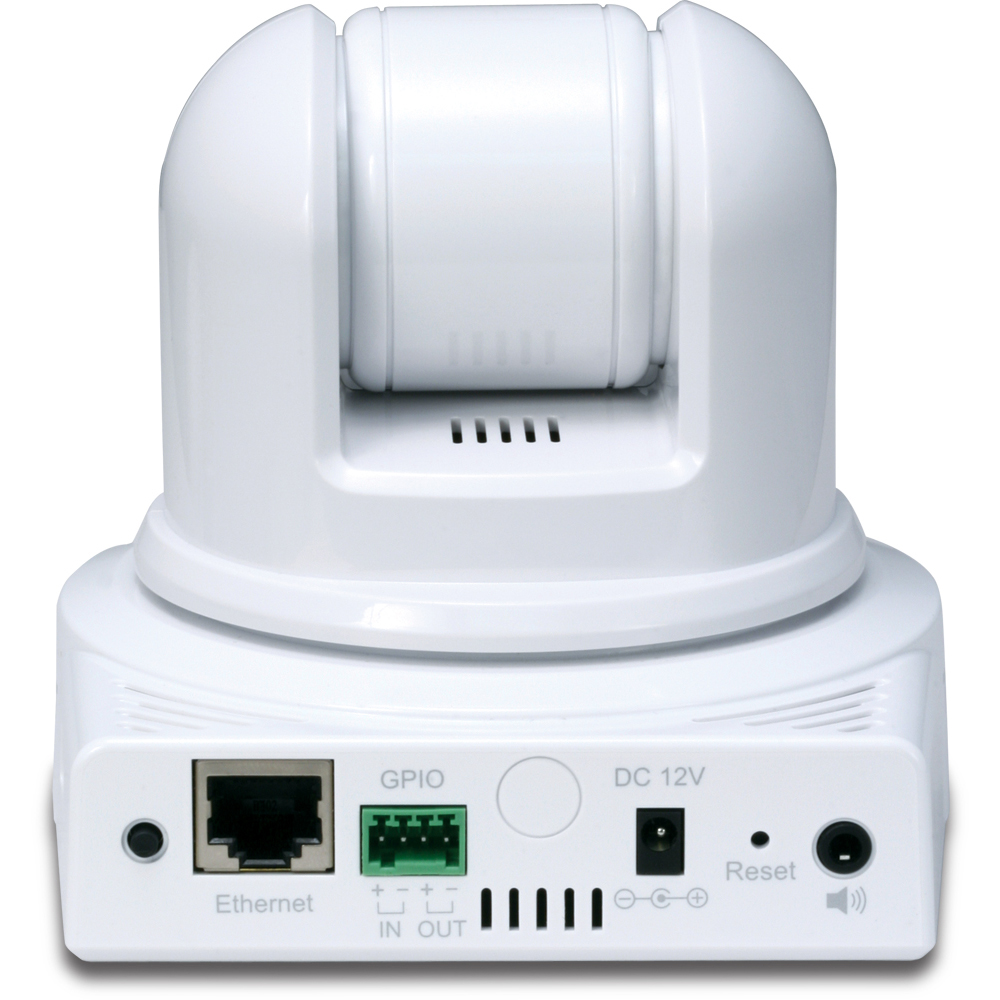 Drahtlose SecurView-Internetkamera für Tag- und Nachtaufnahmen mit Schwenk-/Neigekopf und Zoomfunktion
TV-IP422W (Version A1.0R)
Keine Verbindung per Ethernetkabel erforderlich: Bilder werden über verschlüsseltes drahtloses Signal übertragen
Sichtweite bei Nacht bis zu 5 m
Schwenk- und Neigefunktion deckt größeren Bereich ab
Von beliebiger Internetverbindung aus seitlich um 330° schwenkbar und in der Höhe um 105° neigbar
Kostenlose Software mit Funktionen zur Bewegungserkennung und E-Mail-Benachrichtigungen
DISCONTINUED PRODUCT
The TV-IP422W (Version A1.0R) has been discontinued. For a list of discontinued products,
click here
.
Firmware
Aktualisieren Sie die Firmware von TRENDnet-Produkten NICHT über eine drahtlose Verbindung.
Wenn die Firmware über eine drahtlose Verbindung aktualisiert wird, kann das Produkt Schaden nehmen. Führen Sie Aktualisierungen deshalb bitte nur über verdrahtete Verbindungen durch.
Firmware Version: V1.1.1 build 98
Release Date: 1/2015
Note:
Fix ActiveX buffer overflow issue
Apply new security key to ActiveX/java applet
Note:
The new firmware natively works with Internet Explorer 10. If you have Internet Explorer 11 or higher version. Please add the camera on the compatibility setting list.
Please change the Java setting with Java Control app to turn off blocking self-signing apps.
More details included in the firmware upgrade instruction file.
Dateiname: FW_TV-IP422W(1.1.1.98).zip
SHA-1 Checksum: F22346F2670523F75F31162FB8E0EBEFAAF77019
Datum
7/27/2017
Dateigröße
4.46 mb
Software
Software Version: 2.5.9
Release Date: 4/2017
Notes:
Fixed TV-IP420P P/T issue
Dateiname: TRENDnetViewPro(2.5.9).zip
SHA-1 Checksum: 7CD1D9AE621816395E9FE9644B651F3696388215
Datum
7/27/2017
Dateigröße
41.15 mb
Kurzanleitung zur Installation
---
---
---
---
---
---
Bedienungsanleitung
Dateiname: UG_TV-IP422_TV-IP422W(A2.21).pdf
Datum
4/26/2010
Dateigröße
3.96 mb


Camera Specifications
Bildsensor
Sensor

1/4" Farb-CMOS-Sensor

Auflösung

640 x 480 pixel

Fixierte Linse

f: 4,0mm, F: 2,8 (IR-Objektiv)

Sichtwinkel

64°

Mindestbelichtung

0 Lux
Audio
Mikrofoneingang
intern omnidirektional
Empfindlichkeit: -48dB + 3dB
Reaktionsfrequenz:
50 bis 16000 Hz
Audio-Ausgang
Lautsprecherbuchse 3,5 mm
Format
PCM/AMR (mono)
Video-/Bildeinstellung

Video-Format

MPEG-4 und MJPEG

Bildfrequenz

30fps @VGA, QVGA, QQVGA

Einstellung der Bildfrequenz

1 bis 30 (Bilder pro Sekunde)

Einstellung der Kompressionsrate

5 Stufen

Auflösung

640 x 480, 320 x 240, 160 x 120

Digitaler Zoom

3x

Belichtungsregelung, Weißabgleich,
Verstärkungsregelung

Automatisch

Bildeinstellung

Helligkeit, Kontrast und Sättigung regelbar

Bildwechsel

vertikal/horizontal

Lichtfrequenz

50 Hz, 60 Hz oder im Freien

Schwenken/Neigen
Schwenkradius
+165° bis -165°
Neigeradius
+90° bis -15°
Voreingestellte Positionen
8 Positionen
Möglichkeit zur Regelung
nach oben, nach unten, links, rechts, Mitte
Kommunikation
LAN
10/100 MBit/s Auto-MDIX
Protokolle
TCP/IP, UDP, ICMP, DHCP, NTP, DNS, DDNS, SMTP, FTP, HTTP, Samba, PPPoE, UPnP, RTP, RTSP, RTCP
Hardware Specifications
System
CPU
ARM9 base
RAM
32 MB SDRM
ROM
8 MB NOR-Flash

Betriebssystem

Linux
Systemanforderungen (Webkonfiguration)
CPU
Pentium III 350 MHz oder höher
Speichergröße
128 MB oder mehr

Auflösung

800 x 600 oder höher

Browser
Internet Explorer 6.0 oder höher

Unterstützte Betriebssysteme

Windows 2000/XP/Vista
Systemanforderungen (Software SecurView™)
CPU
Pentium4, 1GHz oder höher
Speichergröße
512MB oder mehr
Auflösung
1024 X 768 oder höher
Unterstützte Betriebssysteme
Windows 2000/XP/Vista
Physikalische Eigenschaften / Umgebungsanforderungen

Abmessungen

115 x 110 x 105 mm

Gewicht

330g

Stromversorgung

Externes Netzteil (12 V Gleichstrom, 1,5 A)

Leistungsaufnahme

6 Watt (Max.)
LEDs

Stromversorgung (Orange), Link (Grün)
aktiviert/deaktiviert

IR Wellenlänge
940nm
Temperatur

Betrieb: 0 ºC bis 45 ºC
Lagerung: -10 ºC bis 60 ºC
Drahtlose Verbindung
Standard
IEEE 802.11b/g
Verschlüsselung
64/128-Bit WEP, WPA-PSK, WPA2-PSK (TKIP/AES)

Antenne

Abnehmbare 2dBi-Antenne mit Reverse-SMA-Anschluss

Sonstiges
USB-Port
USB 1.1 (Typ A)
Maximale Spannung 500 mA. Unterstützt Festplatten FAT 16/32
Allgemeiner Ein-/Ausgang
1 Eingang und 1 Ausgang
IR-Sensor
Normaler Modus: 2,5 Lux
Nachtsichtmodus: 0,5 Lux
IR-LED aktiviert: 0 Lux
Lichtsensor löst IR-LED aus: 5 Lux
PACKUNGSINHALT
TV-IP422W
CD-ROM (Software & Bedienungsanleitung)
Kat.-5-Ethernetkabel (1,8 m)
Ein-/Ausgangsadapter
Montagesatz
Die in diesem Dokument enthaltenen Informationen beziehen sich auf Produkte von TRENDnet und können jederzeit ohne vorherige Ankündigung geändert werden.