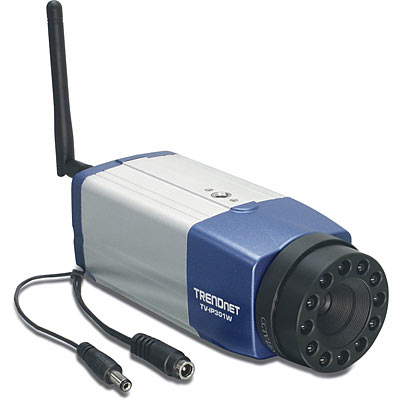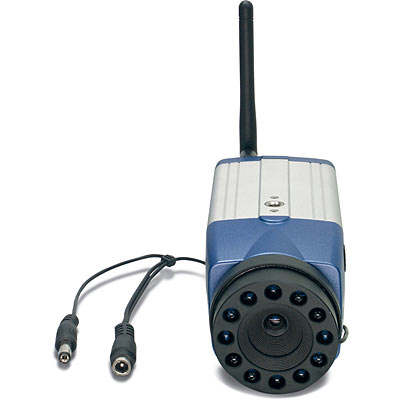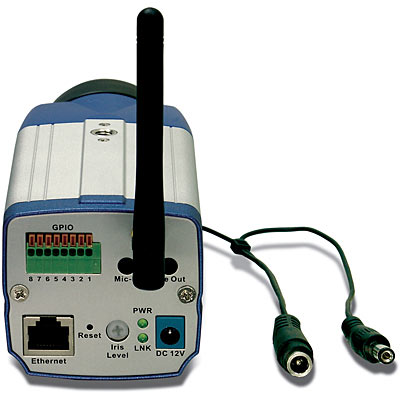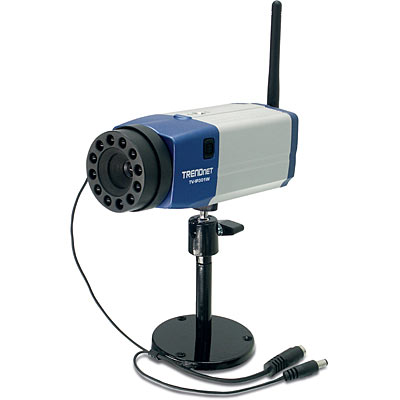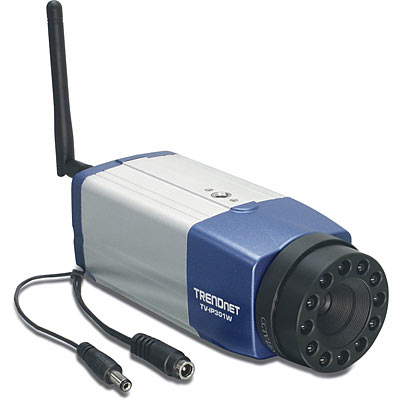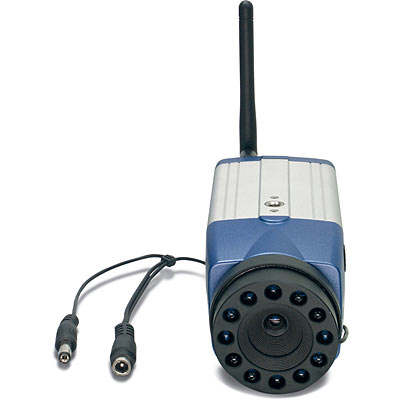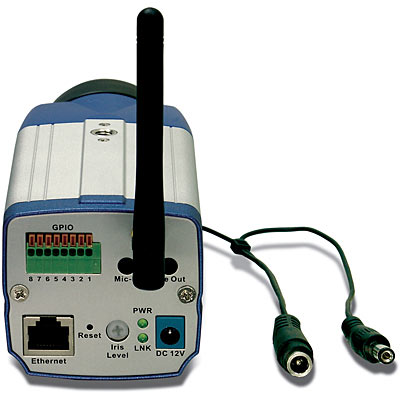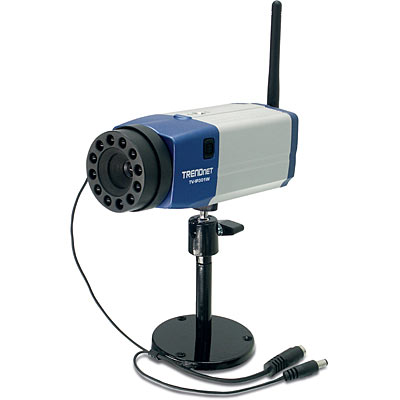 Erweiterter drahtloser Internet-Kameraserver für Tag- und Nachtaufnahmen mit Audiofunktion
Excellent night recording with infrared lens technology
No need for an Ethernet connection, video is transmitted over an encrypted wireless signal
Superb image quality from MPEG-4 compression and CCD sensor
View streaming video, hear sounds and record from any Internet connection
DISCONTINUED PRODUCT
The TV-IP301W (Version 1.0R) has been discontinued. For a list of discontinued products,
click here
.
Firmware
Dateiname:
Firmware_TV-IP301W(V1.0R)_1.00.46.ZIP 10-13-2006
Description:
Firmware file: FW_TV-IP301W_1.00-46_20061005.bin, Date: 10-05-2005
TV-IP301W(V1.0R) Firmware version 1.00.46, for TV-IP301W Hardware Version V1.0R.
WARNING!:
Please check the serial number label on the unit, if it does not show "V1.0R", please do not use this firmware.

Release Note:
Firmware 1.00.46 10-5-2005
1. Fixed WEP HEX Bug
Firmware History:
Firmware 1.00.37 06-01-2006
1. Initial Firmware
Dateiname: FW_TV-IP301W_1.00-46.zip
Datum
8/21/2007
Dateigröße
2.80 mb
---
Dateiname: FW_TV-IP301_301W(v2.00.68).zip
SHA-1 Checksum: 70877E25E10EC3F3BB9F8615DD45755DFDB42BAB
Datum
7/25/2017
Dateigröße
2.82 mb
---
Aktualisieren Sie die Firmware von TRENDnet-Produkten NICHT über eine drahtlose Verbindung.

Wenn die Firmware über eine drahtlose Verbindung aktualisiert wird, kann das Produkt Schaden nehmen. Führen Sie Aktualisierungen deshalb bitte nur über verdrahtete Verbindungen durch.
Probleme bei der Aktualisierung der Firmware können das Gerät dauerhaft beschädigen oder seine Funktionsfähigkeit erheblich einschränken. Lesen Sie bitte die "Hinweise zur neuen Firmware" auf unserer Website. Laden Sie die neue Firmware bitte nicht herunter, wenn Sie dort keine Lösung für Ihr konkretes Problem finden.
Firmware: FW_TVIP301_301W_A1(1.23).zip
Firmware Version: v1.23
Release Date: Feb 2009
Release Note:
Restrict the Stop time must be greater than the Start time oftime frame settings of Event Trigger and Schedule settings.
Factory RTC to default date time value when doing Factory Resetvia web UI and hardware button.
Fixing the highest compression rate error at JPEG mode.
Modify wireless setting - HEX data checking error message.
Error handle for checking WPA-PSK 64 bytes password format.
Refine RTC initialization to make sure oscillator enabled.
Dateiname: FW_TVIP301_301W_A1(1.23).zip
SHA-1 Checksum: B95A494382AA6DE3FE59FCF28D972A86ECA651E3
Datum
7/25/2017
Dateigröße
3.39 mb
Kurzanleitung zur Installation
---
---
---
---
---
---
---
Bedienungsanleitung
Dateiname: UG_TV-IP301_301W.pdf
Datum
5/31/2006
Dateigröße
3.08 mb


Bildsensor
Sensor:
Sony 1/4" Progressive-CCD
Auflösung:
640 x 480, 320 x 240, 160 x 120
Objektiv:

f: 6.0 mm
F: 1.8 IR-Objektiv (CS Mount)

Mindestbelichtung:

IR ein: 0.5 Lux
IR aus: 0.5 Lux

Audio-Eingang & -Ausgang
Eingang:
Integriertes Mikrofon, externes Mikrofon (mono)
Komprimierung:

ADPCM (mono)
PCM: 8K/16K/24K/48K (mono)

Signal-Rausch-Verhältnis:
62 dB
Video
Komprimierung
MPEG-4 (Simple Profile) / M-JPEG
Auflösung
VGA/QVGA/QQVGA
Bildfrequenz
30 Bilder/sek bei VGA, QVGA, QQVGA
Auf/Ab-Umkehrung
Ja
Links/Rechts-Umkehrung
Ja
Qualitätsauswahl
5 Stufen
Auswahl der Bildfrequenz
13 Stufen
Helligkeit, Kontrast, Farbe, Schärfe, Bewegungserkennung
Ja
Antiflicker
50 oder 60 Hz
Belichtung, Weißabgleich
Automatisch
Kommunikation
LAN

10/100 MBit/s Ethernet
Auto-Sensing & Auto-MDIX

Protokoll
HTTP, SMTP, FTP, NTP, DNS, DHCP, TCP/IP, DDNS, UPnP
Drahtlose Verbindung
Standard
IEEE 802.11b/g
Datenrate

11g: 54, 48, 36, 24, 12, 9, 6 MBit/s
11b: 11, 5,5, 2 und 1 MBit/s

Frequenz
2,4 - 2,4835 GHz (ISM-Band)
Antenne
Abnehmbare 2dBi-Diversity-Antenne (Reverse-SMA-Anschluss)
Verschlüsselung
64/128-Bit WEP

Hardwaredaten
System
Prozessor
Infineon ADMTek 5120
RAM
32 MB
ROM / Flash-Speicher
4 MB
Betriebssystem
Linux
E/A & Steuerung
Eingang
1 Paar (Stifte 1, 2)
Ausgang
2 Paare (Stifte 3, 4 & Stifte 5, 6)
RS-485 (für Schwenk-/Neigesteuerung)

1 Paar (Stifte 7, 8)
Systemanforderungen (Webkonfiguration)
Prozessor
Intel Pentium 1 GHz oder schneller
Speichergröße
256 MB
Auflösung
800 x 600 oder höher
Physikalische Eigenschaften / Umgebungsanforderungen
Abmessungen
157 x 62 x 56 mm
Gewicht

Kamera: 450 g
Ständer: 116 g

Stromversorgung
Externes Netzteil (12 V Gleichstrom, 1,5 A)
Stromverbrauch
7 Watt
Temperatur



Betrieb: 5 ºC bis 45 ºC
Lagerung: -10 ºC bis 60 ºC

LEDs

Stromversorgung: grün
Verbindung: grün

Luftfeuchtigkeit
15 - 85 % (nicht kondensierend)
Zertifizierung
CE, FCC
Software
Browser
Internet Explorer 5.0 oder höher
Anwendung
IPView-Pro-Software
Unterstützte Betriebssysteme
Windows 98SE/ME/2000/XP/Vista

PACKUNGSINHALT
TV-IP301W
Mehrsprachige Installationsanleitung
CD mit Dienstprogramm
Kameraständer
RJ-45-Kabel
Netzteil (12 V, 1,5 A)
Die in diesem Dokument enthaltenen Informationen beziehen sich auf Produkte von TRENDnet und können jederzeit ohne vorherige Ankündigung geändert werden.