TRENDnet launches industrial-grade network switch with variable voltage
TRENDnet (1/26/2017)


TORRANCE, Calif. - Jan. 26, 2016 - TRENDnet® (www.TRENDnet.com), a global leader in reliable SMB and consumer networking solutions, announced today that it has launched the 6-Port Industrial Gigabit PoE+ DIN-Rail Switch 12 - 56 V, model TI-PG62B, an industrial switch that features variable voltage support for application flexibility.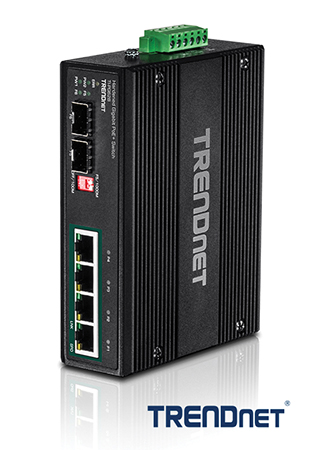 TRENDnet's new 6-port hardened gigabit PoE+ switch features four gigabit PoE+ ports and two dedicated SFP slots, with a 60-120W PoE+ power budget. It is designed with a sturdy IP30 rated housing to withstand a high degree of shock and vibration, provide protection against ESD, EMI, and surges, and operate within a wide temperature range of -40 - 75° C (-40 - 167° F).
Variable voltage support allows for use of low voltage 12V and 24V power supplies commonly found in industrial applications, over the usual 48V required for most PoE PSE equipment. Fault tolerance is enabled with the dual redundant 12-56VDC power input with an output alarm relay, triggered by power failure of the primary and/or redundant power supplies.
6-Port Industrial Gigabit PoE+ DIN-Rail Switch 12 - 56 V, model TI-PG62B
4 x Gigabit PoE+ ports, 2 x Dedicated SFP slots
60 - 120 W power budget
12 Gbps switching capacity
Hardened IP30 rated metal switch
Includes DIN-rail and wall mounts
Power supply sold separately (model: TI-S12048)
Limited Lifetime Warranty (US/Canada only)
MSRP: USD $369.99
Availability: End of January 2017
Über TRENDnet, Inc.
TRENDnet ist ein globaler Anbieter von preisgekrönten Netzwerk- und Überwachungslösungen für kleine und mittelständige Unternehmen und Privatnutzer. TRENDnet baut seit 1990 Netzwerklösungen auf und ermöglicht den Nutzern, Breitbandzugänge, Multimedia-Inhalte und Netzwerkumgebungen für eine wahre, uneingeschränkte Konnektivität zu teilen. Der vielfältige Produktportfolio von TRENDnet beinhaltet Drahtlostechnologie, Internetkameras (IP-Kameras), Schalter, PoE-Anwendungen, Glasfaser, Gigabit, Hausautomatisierung, Netzwerk-Videorecorder (NVR), Tastatur/Video/Maus (KVM), Druckserver, Powerline, NAS-Media-Server, Multimedia-Zubehör u.v.m. Für weitere Informationen zu TRENDnet, besuchen Sie bitte www.trendnet.com.
Kontaktinformationen:
TRENDnet
20675 Manhattan Place
Torrance, CA 90501
USA

Marketingabteilung
(310) 961-5500
PR@trendnet.com

Vertriebsabteilung
(888) 326-6061
sales@trendnet.com