TRENDnet expands USB-C product line with hubs and more adapters
TRENDnet (1/6/2017)


CES 2017, LAS VEGAS and TORRANCE, Calif. – Jan. 6, 2017 -- TRENDnet® (www.TRENDnet.com), a global leader in reliable SMB and consumer networking solutions, has added five new USB-C solutions to its popular USB-C product line. The USB-C product line allows users to extend the life of their existing hardware, while simultaneously allowing users to utilize new technology.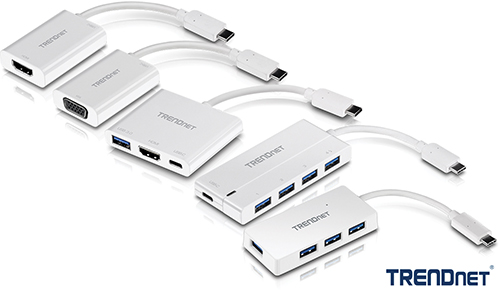 USB-C is slated to be the new industry-standard when it comes to USB connectivity. It transmits both data and power over the same cable for more flexible usability. USB-C also supports USB 3.1 as the default protocol, delivering up to 10Gbps, which is theoretically twice the speed of USB 3.0. In the future, users will also see audio support introduced to the USB-C standard.
TRENDnet introduces several new adapters to its growing USB-C line of products to meet the different needs of varying users. The newest additions are slated to arrive over the next few months.
4-Port USB-C Ultra-Mini Hub, model TUC-H4E
USB-C to HDMI with Power Delivery and USB 3.0 Port, model TUC-HDMI3
USB-C to 4-Port USB 3.0 Hub with Power Delivery, model TUC-H4E2
USB-C to VGA Adapter with Power Delivery, model TUC-VGA2
USB-C to HDMI Adapter with Power Delivery, model TUC-HDMI2
About TRENDnet, Inc.
TRENDnet is a global provider of award-winning networking and surveillance solutions to small and medium-sized business and home users. Building networking solutions since 1990, TRENDnet enables users to share broadband access, multimedia content and networked peripherals for true anywhere connectivity. TRENDnet's diverse product portfolio includes Wireless, Internet Cameras (IP Cameras), Switches, Power over Ethernet (PoE), Fiber, Gigabit, Home Automation, Network Video Recorders (NVR), Keyboard/Video/Mouse (KVM), Print Servers, Powerline, NAS Media Servers, Multimedia Accessories, and more. To learn more about TRENDnet, please visit www.trendnet.com.
Contact:
TRENDnet
20675 Manhattan Place
Torrance, CA 90501
USA

Marketing Department
(310) 961-5500
PR@trendnet.com

Sales Department
(888) 326-6061
sales@trendnet.com