Lights Camera Action-TRENDnet Launches TRENDnet TV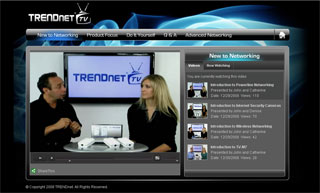 We are excited to announce the launch of TRENDnetTV.com!
TRENDnetTV is dedicated to providing you with useful networking hardware information. From Powerline technology, to optimizing your wireless network, TRENDnetTV walks users through product installations as well as future networking technology showcases. New to networking? We have information for you. Looking for specific topics? Take a look at our in depth segments on the latest products, useful Do It Yourself tips and tricks and a Question and Answer segment
2009 Consumer Electronics Show Sneak Preview
Join TRENDnet at the 2009 Consumer Electronics Show, taking place January 8-11 in Las Vegas, Nevada. View multiple groundbreaking product launches, from new Green technology to Dual Band Wireless solutions to innovative Internet Camera products, at the lavish Mirage Hotel.



The highlighted event will launch a first to market 7" Wireless Internet Camera and Photo Monitor, as well as a 7" Wireless Internet Camera Monitor Kit. View real-time streaming Internet Camera video independently of your computer.



TRENDnet continues to provide cutting edge technology, with a compact gamers' delight. Introducing the Wireless N Gaming Adapter (Model TEW-647GA), which provides your consoles Ethernet port with high performance wireless n connectivity.

Travel often? Hate hotel Internet access? Upgrade your hotel room stay to wireless n with the 300Mbps Wireless N Travel Router (Model TEW-654TR). This tiny router fits in your pocket and packs powerful wireless n punch.

Click here for more information