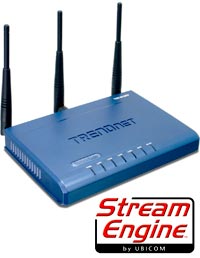 PRESS RELEASE
TRENDnet ® Begins Shipping Wireless N-Draft Family with StreamEngine ™ Technology by Ubicom ®
Torrance, CA – September 14, 2006 – TRENDnet, a best-in-class manufacturer of wired and wireless networking solutions today announced it has started shipping the Wireless N-Draft Router (TEW-631BRP), PC Card (TEW-621PC) and PCI Adapter (TEW-623PI) products to partners worldwide. The advanced speed and range of the new technology is designed to support multiple high-bandwidth data streams in the home or office.
To manage the increasing demand of multimedia traffic across the network, the TEW-631BRP will include StreamEngine® Technology by Ubicom®, which helps prioritize traffic to reduce potential lag or jitter with streaming applications such as VoIP, music, video and gaming. Combined with expanded range and throughput of the Atheros' XSPAN™ chipset technology, users can avoid potential interference and enjoy streaming multimedia content reliably throughout their home.
TRENDnet's Wireless N-Draft family of products is based on the IEEE 1.0 Draft 802.11n specifications and is intended to deliver greater speed and range than 802.11g and 802.11a/g products and handle the increasing bandwidth demands of multimedia applications. By combining Ubicom's StreamEngine™ QoS traffic prioritization technology with advanced MIMO antenna range and 40Mhz channel speed, TRENDnet's draft family more closely conforms to the specs in the IEEE 1.0 draft.
"The increasing use of the internet for real time interactive applications and as a means to gain access to and enjoy digital media drives the need for easy to use high quality home networks" said Keith Morris, Ubicom Vice President of Marketing. "We are very pleased that TRENDnet recognized that using StreamEngine® Technology was the most effective way to deliver the best online experience for their customers."
"In addition to increased bandwidth, by incorporating Ubicom's StreamEngine® technology, our TEW-631BRP Wireless N-Draft router is the ideal home media gateway for multimedia applications in the home," stated Heath Gregory, Marketing Director for TRENDnet.
Also, development of TRENDnet's new Wireless N-Draft family has focused on assuring peak performance and compatibility with legacy 802.11b/g solutions and competitive solutions based on other silicon chipsets. Since the majority of the current 802.11n 1.0 draft hardware is based on Broadcom and Atheros chipset technology, recent independent testing between Atheros' XSPAN and Broadcom's Intensify AP and client adapter solutions show enhanced, reliable performance between the two chipset platforms. The positive compatibility testing results provide more assurance to customers that once they buy a TRENDnet Wireless N-Draft product they have the highest likelihood of achieving peak performance with existing WiFi equipment currently in use.
In addition to the wireless speed and range enhancements, the Wireless N-Draft Router (TEW-631BRP) also provides advanced security for the network with Wi-Fi Protected Access (WPA) for secure wireless traffic, Rule-Based Stateful Packet Inspection Firewall (SPI) protection against unwanted hacker attacks and multiple Internet access control filters.
The Wireless N Product Family includes the following products and average selling prices for the U.S. only: TEW-631BRP Router - $129.99 (USD); TEW-630APB Access Point - $149.99 (USD); TEW-621PC PC Card - $99.99 (USD); and the TEW-623PI PCI Adapter - $99.99 (USD).
About TRENDnet
Headquartered in Torrance, California, with branches in Germany, Mexico, Brazil, Columbia and Taiwan, TRENDnet is a global supplier of TRENDnet products to business partners in over 110 countries worldwide. TRENDnet is a dynamic organization responsive to the diverse business climates around the world. This focus has established TRENDnet as a global networking brand, recognized for high quality, low prices, exceptional performance and great service. For more information visit www.trendnet.com or call +1 (310) 891-1100.
TRENDnet® 2006. All Rights Reserved. TRENDnet and its logos are registered trademarks of TRENDware International Inc. in the United States and/or other countries.